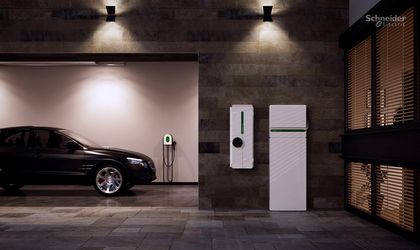 Schneider Electric, the leader in the digital transformation of energy management and automation, unveiled Schneider Home – a first-of-its-kind home energy management solution for homeowners seeking savings, comfort, and energy independence – today at the Consumer Electronics Show (CES) in Las Vegas (booth #53711).
The Schneider Home energy management solution includes a home battery for clean energy storage, a high-power solar inverter, a smart electrical panel, electric vehicle charger and connected electric sockets and light switches – all controlled by the easy-to-use Schneider Home app. The Schneider Home solution intelligently orchestrates home energy by bringing together utility power, solar, back up battery and EV charging. It offers unparalleled intelligence to homeowners, including the ability to monitor energy consumption by individual appliance, decide where to prioritize power during an outage to extend available back up power, and avoid expensive electrical service upgrades when purchasing an EV. The solution also allows homeowners to save by enrolling in utility programs and qualify for tax incentives.
In contrast to existing solutions which require separate apps and disjointed hardware, Schneider Electric has eliminated the complexity for homeowners by automating energy production, storage, measurement and control. Recognized by CES as a 2023 Innovation Award Honoree, Schneider Home's sleek styling and integrated approach mark a new age of home energy management solutions.
Schneider Home offers a unique integration of energy resources and digital capabilities, including:
Schneider Pulse: The heart of the electrified home. A smart electrical panel powered by embedded technology, functionality, and intelligence to interconnect various energy sources within the home. This solution has already been recognized for its innovation with awards from Time, Fast Company, and Green Builder, among others.
Schneider Boost: The home battery for energy storage. Store solar energy during the day and use it during peak rates for utility bill savings and to keep home power flowing during an outage.
Schneider Inverter: The high-power hybrid inverter for solar and storage. Converts solar energy output into usable AC electricity.
Schneider Charge: The electric vehicle charger. Leverages onsite solar and storage to boost charge speed and reduce charging costs.
Schneider Home: The single app to control it all. Monitor, control and automate whole home energy management through one easy-to-use application.
This announcement timing couldn't be more important. The cost of utility power in the U.S continues to increase, while damaging weather events and grid instability are driving the need for more clean, cost-effective, resilient, and secure energy. In tandem, the U.S. is making unprecedented investments in clean energy, and renewables are poised to become the largest source of electricity generation by 2025. Government incentives, utility programs and rebates have brought about a significant shift in how consumers engage with energy in their everyday lives.
Schneider Electric is the first company to bring together disparate home energy technologies into an integrated, open, and streamlined system – all controlled by a single app with unique capabilities, including:
Predefined and customizable energy saving settings, like Away Mode, to power off non-critical appliances when not needed, customize lighting scenes and set up your battery to maximize savings
Intelligent EV charging when rates are lowest – or directly from solar
Reduced time and complexity of installation in comparison to legacy systems
Minimal footprint and streamlined design taking up less space than current configurations
The Schneider Home energy management solution is modular in design and can be purchased as a full suite or incrementally as homeowners' needs evolve. The complete solution will roll out over the course of 2023. For more information, visit SchneiderHome.com.