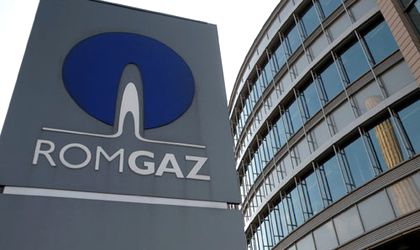 The Romanian Natural Gas Company "Romgaz" posted a net profit of RON 501.2 million in the first quarter, a decrease of 10.6 percent compared to the first quarter of 2017. Total revenue was at RON 1.48 billion, down 1.02 percent and gross profit was at RON 597.7 down by 10.68 percent.
The gas production recorded for Q1 2018 was 1,364.1 million cubic meters, 2.3 percent higher than the production recorded in Q1 2017. The natural gas imported by Romania increased by 14 percent in Q1 2018, up to a total quantity of 8.3 TWh and from Romgaz natural gas stocks stored in underground storages, the withdrawn quantity was the equivalent of 11.9 TWh, less than in the same period of 2017.
The natural gas consumption estimated at national level for Q1 2018 was of 49.77 TWh, down by 1.05 percent compared to Q1 2017 (50.3TWh) out of which approximately 8.33 TWh was covered by import gas and the remaining 41.44 TWh by domestic production to which Romgaz participated with 18.46 TWh, representing 37.09 percent of the national consumption and 42.45 percent of the consumption covered by domestic gas. The company's market share decreased by 2.5 percent as compared to the market share held in Q1 2017.
For Q1 2018, the electricity quantity supplied was by 52.8 percent lower than the similar period of 2017 due to a warm winter, low prices and lack of commitment to the Balancing Market due to increased hydro and wind power generation. According to the data offered by Transelectrica, the market share was 1.64 percent in Q1 2018.
For Q1 2018, Romgaz had scheduled investments in the amount of RON 297.5 million but spent RON 419.1 million, 40.87 percent higher. Thus, the implementation degree of Romgaz Annual Investment Schedule in amount of RON 1,605.00 million was 26.11 percent. Compared to the similar time period of 2017, the investments increased by 460.7 percent, respectively RON 419.1 million compared to RON 91.0 million. Investments were exclusively financed from the company's own sources. The value of fixed assets commissioned during the reviewed period is RON 98.8 million.
The total value of non-current assets increased by 2.75 percent, i.e. by RON 174.05 million from RON 6.32 billion on December 31 2017 to RON 6.5 billion on March 31, mainly due to the investments made for the new power plant at Iernut and for seismic investigations. In Q1 2018, the company recorded an adjustment for the depreciation of the investment at Electrocentrale Bucuresti, in amount of RON 19.1 million. The investment did not generate a negative effect in the course of the year, being recorded as retained earnings following the transition to IFRS 9.