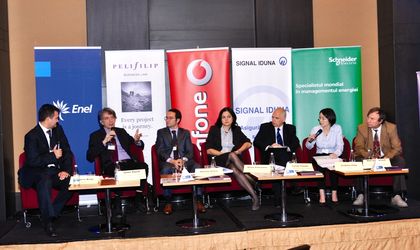 The lure of Romania's renewable energy sector, legal bottlenecks in support for green energy producers, the advance of smart technologies and a shift from wind to hydro power were among the themes raised during the second Focus on Power event, organized by BR last week.
Ovidiu Posirca
Legal issue spark problems
The main challenge facing Romania's energy sector is adopting the legal framework and European regulation, said Valeriu Binig, director of financial advisory services/energy & resources/corporate finance at Deloitte. Romania hasn't incorporated the two Gas and Electricity Directives into its national law, he noted. The authorities failed to adopt the third EU energy package by March this year, and were granted another six months. This term has elapsed and Romania may face an infringement procedure. However, 19 member states are in the same boat.
Silvia Vlasceanu, general director of the Association of Energy Utilities Companies, voiced serious concerns about the application procedures for law no.220/2008, which should promote energy production from renewable sources. Currently, producers can't fully access the support scheme, which grants a variable number of green certificates for every MW produced and delivered, while the government ordinance that could fix this issue is being delayed by the Romanian authorities. Ionel David, public affairs consultant at the Romanian Wind Energy Association, said that the ordinance would be discussed by the Ministry of Economy, which should finally enact the law, although electricity prices are expected to increase by almost 4.8 percent. This is the main deterrent for the authorities, as Romanian households are already under economic pressure, due to the stubborn recession. Currently all green energy producers are granted one certificate. The cost of a certificate ranges between EUR 27 and 55, a price regulated by the Romanian authorities.
Cristina Filip, of law firm PeliFilip, agreed there would be an increase in tariffs, but this was evaluated in 2008, when the law came into force and investors were first sought.
Until the issue of secondary legislation for renewable energy, law no.228/2008 (amended in 2010), is resolved, projects will continue to be analyzed by assuming a conservative scenario that takes into account only 1GC (Green Certificate)/MW, according to Robert Ghelasi a senior energy analyst at Capital Partners, an investment banking advisory firm that is currently handling the development of renewable projects with installed capacity of 1,105 MW.
Razvan Grecu, senior energy analyst at Candole Partners, added that the Romanian authorities have attracted investors but are still maintaining control of the generation capacity. Grecu also suggested some ways to spur investments, arguing that the regulated market should be decreased and the electricity transportation infrastructure must develop.
Financing energy
"There is inconsistency in the way wind projects are being developed. These developments are concentrated in Dobrogea and Southern Moldova, posing the issue of extraction and transportation to consumers," said Marian Cernat, director of the operational division at Transelectrica, the national grid operator. Cernat said solar production was a better investment as the energy is produced only during the daytime when consumption is high. However, he added, these investments should consist of small modules on top of buildings. Kurt Weber, managing director at Horvath&Partners, stated that the technology and innovation exists and utilities companies know remaining a simple energy supplier will not increase profitability.
Investors are switching from wind to small hydropower developments, according to Ghelasi. This investment responds to fluctuations in electricity demand, meeting both base-load and peak-load demand, something wind farms can't do.
Romania has pledged to increase the proportion of electricity from renewable resources to 35 percent by 2015, and 38 percent by 2020. The current capital inflow in the sector is considered too low for this, with the gap estimated at EUR 25-35 billion per year over 2011-2020, according to Ghelasi of Capital Partners. Grecu of Candole also warned that it is still not known how Romania will replace 5,000 MW of conventional energy by 2020, as new generation capacities need to be created.
Investments of EUR 7 billion are necessary in the next 10 years for Romania to meet the mandatory national target of 24 percent in 2020, including investment in renewable power plants and the grid, according to Razvan Ghelasi of Capital Partners. On the positive side, the electricity sector is still one of the most attractive to investors. The rates of return are not spectacular, but income is at least stable and investing in renewable and infrastructure is still more secure than in many other areas.  
The smart way
Ion Aldea, head of metering at ENEL, argued smart meters are the first mandatory step towards the implementation of smart grids. The firm is planning to replace 2.6 million traditional meters with an automatic management measurement system improving distribution. The move should allow tailored tariffs for consumers and reduce bills. Moreover, operating costs will also be reduced, making the activity more efficient. The telecoms industry will also contribute to this new technology. According to Victor Cosconel, country sales manager Romania for Vodafone Global Enterprise, the machine to machine (M2M) technology that was developed by the operator could also be applied to smart metering and smart grid programs. This will involve remote maintenance and control. In addition, the energy industry will need to consider further investments in the safety of its employees, by acquiring healthcare insurance packages, commented Gicu Firu, corporate, brokers and bank assurance manager at Signal Iduna.  
"Smart grid technology is more complex. It is a combination of software, hardware and expertise," stated Saulo Spaolanse, president of Schneider Electric Romania. In recent decades renewable sources posed the challenge of connection to the grid, and delivery to consumers, added Spaolanse.
Sabin Posea, smart grids program director at Eximprod, noted that the electricity transformation stations in Romania are old, and need to be updated, replaced or improved. Posea also predicted that the advent of small and micro-generators of under 1 MW will see consumers become suppliers of energy too. "Romania already has its path set in the energy sector, as it will become part of the internal energy market of the EU, expected to be established and interconnected by 2014," said Lucian Palade, electrical energy market consultant.
The second Focus on Power event was organized last week at the Howard Johnson Grand Plaza Hotel in Bucharest and attended by about 100 participants.
 
ovidiu.posirca@business-review.ro
Cristina Filip,partner, PeliFilip
"The support scheme for renewable energyproducers will impact prices for consumers"
Marian Cernat,director of operational division, Transelectrica
"The integration of production from renewable sources is happening and has an impact on the Romanian energy system"
Silvia Vlasceanu, general director, Association of  Energy Utilities Companies
"The authorities are stubbornly trying to maintain the current state of affairs
in the energy sector"
Valeriu Binig,director, Deloitte
"The Romanian administration has to adopt the legal framework and European
regulation for the energy sector"
Ion Aldea,head of metering, ENEL Romania
"The implementation of smart meters should lead to improvements in the volume
of investments in Romania"
Saulo Spaolanse,president, Schneider Electric Romania
"Smart grid technology is smart but more complex"
Gicu Firu,corporate, bankers and bank Assurance manager, Signal Iduna
"Energy companies should consider private healthcare insurance packages for employees"
Kurt Weber,managing director, Horvath&Partners
"Utilities companies realize that remaining a simple energy supplier will not increase profitability"