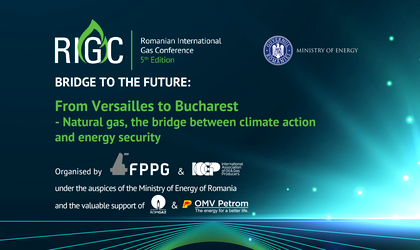 More than 60 top experts from the industry and prominent representatives at the level of governments, European institutions, and regulatory authorities in the field of energy will gather in Bucharest, between September 21-22, at the 5th edition of the Romanian International Gas Conference (RIGC 2022), annual benchmark event organized by the Oil and Gas Employers' Federation (FPPG).
This year's edition, which will be held under the theme "Bridge To The Future: From Versailles to Bucharest – Natural gas, the bridge between climate action and energy security", is held under the High Patronage of the Ministry of Energy and in partnership with the International Association of Oil and Gas Producers (IOGP). In times of energy security challenges, generated by the war in Ukraine and the climate crisis, and ahead of what is expected to be a difficult winter in terms of energy supply, experts will seek to provide solutions that strike the right balance between ensuring the security of energy supply and achieving the ambitious target of net-zero carbon emissions by 2050.
In the current exceptional circumstances, this year's edition will focus on the EU's plan to reduce dependence on Russian natural gas imports and what this could mean for today's and tomorrow's energy system. As energy security and climate change are interrelated, leading expert guest speakers will explore how natural gas can help reduce carbon emissions and modernize the energy system.
In particular, the panels will cover the new EU security architecture, the REPowerEU plan, diversification of energy supply, domestic natural gas production, the role of the Black Sea and challenges in the region. Low-carbon energy solutions that are increasingly needed will also be explored – whether it's hydrogen, carbon capture and storage (CCS) or other significant options that will play an important role in the energy system of tomorrow.
The event will be attended by the Prime Minister of Romania, Nicolae Ciucă, the Minister of Energy, Virgil Popescu, as well as officials from the European Commission, representatives from regulatory authorities, experts from associations and top companies from the Romanian and regional oil and natural gas industry.
One of the key moments will be the ministerial panel that will bring together high-level officials from Romania, Azerbaijan, Georgia, the Republic of Moldova, Bulgaria, Greece, Ukraine, Hungary, and Turkey. They will have a high-level exchange of views related to energy imports until 2030, the role of the Black Sea region and key challenges, national energy strategies and regional cooperation.
At the same time, during the two days of debates within RIGC 2022, several studies that outlines the state of the energy sector will be presented, as well as the main measures taken at the European level to protect consumers and recommendations to ensure energy security.