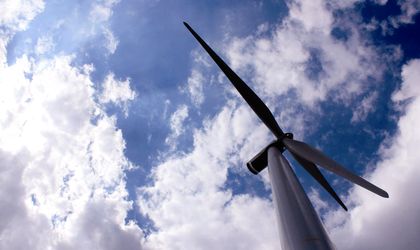 Investors that are developing projects in the renewable sector, mainly wind, could help Transelectrica take the generated electricity into the system at transport it to end-users. This was one of the pronouncements made this week in a seminar on the green energy legal framework organized by the Italian Chamber of Commerce for Romania.  
"If investors in the wind sector want the generated electricity to be taken to end-users, they should finance the development of a transportation line, and recover the money from Transelectrica," said Octavian Lohan, deputy general director of Transelectrica, the Romanian grid operator.
Keeping up with the wind
Around EUR 500 million are needed for the development of 10 lines of 400KV by 2022. The grid operator has started developing capacities that will allow electricity exports to a regional market that will be set up by 2015.
Transelectrica forecasts that Romania will reach 4,750 MW of installed green capacities by 2020, issuing 12.5 million GC (Green Certificates). Renewable energy should represent 24 percent of total energy consumption by 2020 under the EU 2020 Agenda.
The total wind installed capacity jumped from 11MW in 2008 to 826 MW in 2011, CEZ and EDPR being among the main developers. Transelectrica recommends 3,500 MW on wind installments by 2020.   
A gas plant with installed capacity of 850 MW will start operations this year, and a 750 MW thermo electric plant will be finalized in 2016. The Tarnita Lapustesti heat pumping plant is expected to start operations in 2018, with an installed capacity of 1000 MW.
At present, there are 826 MW in wind capacities, 380 MW in micro-hydro plants, 1 MW in solar and 25 MW for biomass.
 
Green trading
The number of GC issued last year totaled 1,732,270, almost triple from 2010,according to data from OPCOM, the operator of the electricity market.
Around 1 million of the GC have traded through bilateral contracts, while 379,659 on the centralized green certificates market (PCCV).
"Starting 2015 there will be a surplus of GC that will pull prices down towards the EUR 27 limit, but we will have a maximum price up to 2014," said Lohan.
The price limits for GC trading are a minimum EUR 27 per certificate and a maximum price of EUR 55. A certificate is valid for 16 months from issuance date.   
The Green Certificates market currently has 95 registered suppliers and 69 producers. Breaking down on production sources, we have 35 in wind, 23 in small-hydro, 4 in biomass, and 4 in solar.
According to the amended law no. 220/2008 that promotes electricity generation from renewable sources, two green certificates will be delivered for every 1 MW generated and delivered from wind sources through to 2017, reducing to 1 starting 2018.  New hydro plants will receive 3GC, while geothermal and biomass is granted 2 GC. Solar is granted 6 GC.
Any new generation capacity is granted 1 GC when in trial stage. The law stipulates that the number of certificates will be lowered in case the project is developed through state aid.
Lucian Cumpanasu, managing partner at law firm Cumpanasu & Dejescu, explained that the energy generated in new capacities will receive certificates for 15 years, while small-hydro plants with revamped technologies are granted certificates for 10 years. Electricity produced from wind capacities that have been used to produce electricity abroad have the right for 7 years to GC. This also applies for capacities operating before the promotion scheme of the renewable law.
Co-generation producers can opt between the support scheme of the 220 law and the support scheme for high efficiency co-generation.

Risk in green business
According to Radu Sirbu, head of structured finance, at UniCredit Tiriac Bank, developing a green project in the CEE (Central and Eastern Europe) may be challenging compared to the EU.
The main risks include the limited experience of local contractions companies in developing projects and complex requirements from authorities that are not fit for the renewable sector.
The insufficient grid capacity and unstable grid conditions were also mentioned by Sirbu as risks for developers.    
A mainly regulated power market with islands of liberalization, coupled with potential law changes are also key challenges. State-owned power utilities and subsides, doubled by potential tariff revisions will impact the revenue of the green project.
Sirbu also said that increased generation capacity since June 2010 has not translated into an intensified trading of GC. Certificates traded in 2011 account for only 25 percent, or EUR 25 million, of granted certificates.
 
Ovidiu Posirca