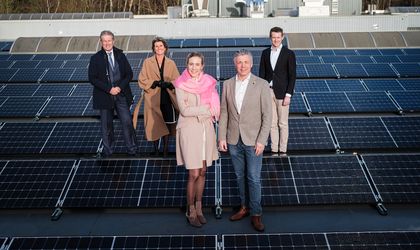 Essers Family Office (EFO), the investment branch of the Essers family – who owns the Belgian sustainable transport and logistics service provider H.Essers, acquired 51% of the shares of ExtraPower, a company specialized in custom photovoltaic engineering and construction. The partnership will support Extrapower to grow in Europe and to continue its expansion through a buy & build strategy.
H.Essers & family keep on investing in Romania, and, specifically, in sustainable solutions (renewable energy), not only in logistics. The family behind the logistics player H.Essers invests in sustainable solutions, and H.Essers brings in logistics expertise to support the growth of these companies active in construction works.
In 2022 the company had a consolidated turnover of 1.1 billion Euros in the European countries it activates.
In Romania, H.Essers has deposits in Bucharest and Oradea and activates in sectors as logistics, transport, distribution, customs, chemicals and pharmaceutics. In Romania, H.Essers represents 71 million Euros, 95 clients and almost 950 employees.
Till the end of the year the 1.500 sqm office in Oradea will be extended with 1.000 sqm, while in Bucharest the chemical warehouse will be extended by 10.000 sqm. In Bucharest, the company has deposits of 50 000 sqm: 20.000 sqm chemicals, 10.000 sqm pharma and 20.000 sqm general goods.
Both partners see European expansion as a buy & build a strategy that will lead to new acquisitions. The long-term growth potential of ExtraPower was the deciding factor for the acquisition by EFO.
ExtraPower was founded in 2014 by Jannes Soutaer and Tineke Serru and is active in Belgium, Romania and Spain.
"We see tremendous potential for growth in other European markets in sectors as industry, retail, investment companies and agriculture. The rest of Europe is also in need of solar parks and charging infrastructure for SMEs and the industry. When it came to helping ExtraPower actively expand and evolve into a pan-European player, H.Essers management and owners were immediately committed. We could also count on the expertise of the entire H.Essers organization and family. Itmade us feel like the partnership was genuine and would safeguard both the family DNA and the entrepreneurial spirit of the company. Another definite advantage is EFO's strong affinity with the renewable energy sector. Not in the least due to the instant personal connection with Gert Bervoets, CEO of H.Essers. Both Gert and H.Essers have a proven track record and understand the importance of further professionalizing the organization", says Jannes Soutaer, CEO ExtraPower.
—
"This partnership excited us due to our strong belief in the future of renewable energy and our industrial background in solar energy. Essers Family Office was impressed with ExtraPower's ability to clearly identify customers and potential growth markets. As a new partner, we will draw on our existing European network. The down-to-earth management style and clear communication also appealed to us. ExtraPower has extensive knowledge of the market, the technology, and the long-term trends. In short, we're convinced that the ExtraPower team will help us build long-term partnerships in the energy transition market", explains Gert Bervoets, CEO H.Essers.
ExtraPower is a Belgian company specialized in engineering, constructing, renovating, and relocating custom photovoltaic systems, and installing high-voltage cabinets and charging infrastructures. ExtraPower currently has 37 employees and generated a turnover of 36 million euros in 2022. Founders Jannes Soutaer and Tineke Serru plan to significantly increase these figures in the next few years.
ExtraPower is active in the B2B segment, catering to both end clients and third-party clients (investors) such as 7C Solarparken. In Belgium, established names such as Samsonite (Oudenaarde), Jules Destrooper (Lo-Reninge) and Weba (Ghent) commissioned ExtraPower to install high-performing solar parks on their roofs. ExtraPower, whose portfolio also includes Umicore, TVH and Van Marcke, has considerable experience creating solar parks the size of several football pitches.
The company also has impressive figures with respect to energy conservation and CO2 reduction. Every year, ExtraPower achieves a CO2 reduction of 78,878 tones and.
This partnership was made possible by Marktlink Fusies & Overnames.
"This new partnership confirms a rising trend: it reflects the transformation of Belgian family-owned businesses into European champions. ExtraPower is the Belgian market leader in the B2B energy transition sector and has experienced tremendous growth in recent years. There is a great deal of interest in renewable energy companies in the European market. ExtraPower is an excellent example of a scalable platform on the verge of entering a new growth phase. With the help of a buy & build strategy and the support of a tight-knit partner like EFO, it will undoubtedly achieve its ambition of becoming a key pan-European player", states Filip Mariën, managing partner of Marktlink.