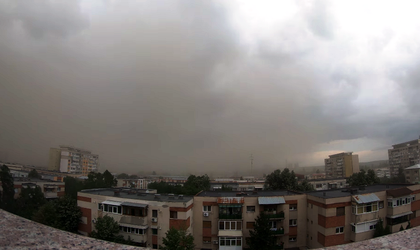 The Ministry of Energy has put into public debate a Government Decision to grant RON 2,775,721.75 lei to the Oltenia Energy Complex (CEO), to expropriate the land on which enlargement is planned for the ash deposit at the Craiova Thermal Power Plant. By decision Council of Europe 2010/787, state aid to industry coal is legal only for closure and conservation work.
The grounding note mentions the opposite: the purpose of the government decision is "The continuation of the activity for the production of energy in the thermal power station".
This year, the ash deposit at the Monastery Valley became famous after polluting the city of Craiova, a cloud carrying all the dust above it city ​​and reduced visibility on most streets. Complex Energetic Oltenia then reported that the phenomenon is caused by "Climate change globally", not to mention that they are produced by greenhouse gases such as those emitted by combustion coal.
This is not the first time this year when the Oltenia Energy Complex receives money from the state budget. In June, the company received through a Government Decision (399/2018) RON 7.8 million for expropriations from the Rosia quarry expansion corridor. Two months later, a HG almost identical (552/2018) resulted in the allocation of RON 4.2 million for the Jilt Sud career. In total, the company received this year to the state budget RON 14.7 million.
While Romania is consuming important resources to keep in coal industry life, 10 EU countries have strategies to eliminate coal in the energy mix by 2030, and seven other states have none an installed unit. The rest of the countries are working on strategies for a fair transition to clean energy that does not affect workers mining communities. The European Commission supports finding alternatives to coal through the Carboniferous Regions Platform in Transition, providing technical assistance to fund the projects they are creating low-emission jobs in these areas.