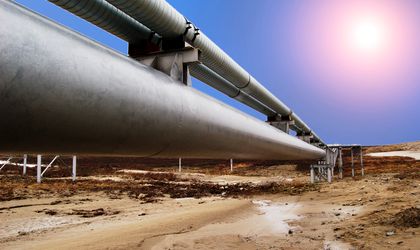 There are more than 200 billion cubic meters of gas in the Black Sea, and once it starts extraction, Romania could double its annual production in a decade, from 10-11 billion cubic meters to 20 billion. These are the recent words spoken by a high official of the state, Sorin Gal – the director of the National Mineral Resources Agency (ANRM) – during a debate on energy-related topics.
For the first time, even though he is from an institution that's only concerned with the concession of resources and the collection of royalties, he raised the issue of the profitable use of resources, rhetorically asking "what are we going to do with that gas?" – "I can't answer this question, because the oil law says that, after the royalty is paid, the owner of the oil agreement is free to sell, use, or export gas," said Gal. "The question has been asked before, occasionally, by Energy ministry officials, by Energy minister Anton Anton, and by some media analysts. There has not been any strategy or debate on this issue so far," he added.
It was not the first time the ANRM talked about Black Sea reserves. What is new is the size of these reserves, based on the available data, which is more than double the initial estimates of a few years ago. In 2015-2016, the gas in perimeters under the concession of Black Sea Oil & Gas (BSOG) and ExxonMobil was estimated at 80-120 billion cubic meters (10 billion and 100-110 billion, respectively). Last year, before the vote on the offshore law, ANRM talked about 200 cubic meters.
"Now, I think there is much more than that and I say that because, after the surface installation and underwater pipelines are built to bring gas to the shore, both to the owner of the Ana and Doina deposits (ed.n. Black Sea Oil & Gas), as well as for the future producers like OMV, Exxon, and Lukoil, there will be an opportunity for the development of small deposits," said Gal. He noted that, besides the large deposits of 30-40 billion cubic meters, there are also lots of small deposits of 4-5 billion cubic meters, which will be made feasible when there will be surface installations and necessary equipment nearby to bring gas to the shores.
Furthermore, this year, the ANRM plans to start Round XI of concessions, through which other gas perimeters will be conceded for extraction, meaning more and more billions of cubic meters of gas will be added to local production. 
The first major producer in the Black Sea will be BSOG, which will begin extraction in 2020-2021, according to its own estimates, and ANRM director Sorin Gal says they will produce 2 billion cubic meters per year (double than what the company officials have said). Exxon-Petrom has postponed its commercial investment decision after the offshore law and OUG 114 were passed, which partially re-regulate the gas market and imposes taxes on energy producers.
Economy minister Gabriel Badalau said two weeks ago that an announcement by Exxon-Petrom on starting exploitation in the Black Sea was coming soon, and that the estimated production volume at Neptun Deep was 5-6 billion cubic meters per year.
"I understand that OMV and the Americans (ed.n. ExxonMobil) are going to announce that they'll begin investments," said the minister. The same is being said by market sources, who say that the decision by the US giant (Exxon is the consortium leader) to invest in extracting gas from the Neptun Deep perimeter has already been made and announced to a semi-private audience at the international oil industry conference in Houston, US.
In conclusion, we'll extract a lot of gas and be one of the largest producers in the EU. The issue though, as the ANRM director pointed out, is what are we going to do with it?
Perhaps at the last minute…
This is where the conversation gets complicated, since there aren't any quick solutions, and Romania needs major gas consumers quickly, otherwise the gas will only travel across Romania on its way to other countries that can really put it to use. There's nothing left of our big petrochemical plants (Arpechim, RAFO, Carom, etc.), there's only some activity at Petromidia, Oltchim has been dismantled and the chemistry segment is closed, except the Azomures fertiliser plant, which is owned by the Swiss at Ameropa.
Therefore, industrial gas consumption is low. Using gas for electricity is also being done at low rates, not even reaching 1.5 billion cubic meters – Brazi, Iernut, Elcen Bucharest and Constanta and only one out of three households has a gas connection, so consumption by the population is also low, under 3 billion cubic meters per year, of which 2.5 billion are used during the winter. Our country doesn't really have a way to use its gas and do so quickly, as the Black Sea gas will be taken out in the next two years. There are endeavours to generate gas consumption, but they are timid and they take a long time, and the economy and geopolitics won't wait around for anybody.
In a few years, the gas might just "leak" towards export, and the Romanian economy may not take advantage of it at all. Energy minister Anton Anton says that we shouldn't worry about these types of things. "There are voices trying to suggest that only a small amount of Black Sea gas will reach Romanians. I'm not the one to contradict them, but they are contradicted by simple economic logic – namely that gas sells best on the closest market, because that's where the largest profit is. And it also saves you from other major and useless expenses," said the minister in the Chamber of Deputies.
Beyond the minister's statements, there is the reality: for nine months of the year, outside the cold season, Romania doesn't really consume much gas, and Transgaz has had several issues with the pipelines for this reason. Low consumption and low volumes of gas in the pipelines led to critically low pipe pressure. That even happened in the 2017-2018 cold season, during a warm period, when the gas volume in the pipelines almost reached the risk level (33 million cubic meters), compared to an optimal 40 million. No disaster happened because the National Gas Dispatch ordered the emergency activation of some thermal gas groups, but such scenarios can come back at any time because Romania simply uses up too little gas for the size of its national transport system.
No advanced projects, even last-minute ones
The current government coalition has admitted the need to establish or reestablish the industrial production capacity that could use up the gas and generate added value, as well as to accelerate the gas network connection programme for as many households as possible. But they've made small steps. Romgaz next year will finalise a 400 MW thermal plant at Iernut. The project began in 2016, so it will take four years from start to finish. The state company has launched a feasibility study for a similar plant in Mintia, which, if the decision is made to invest, would only be ready in 2023, and it would only use 0.7 billion cubic meters.
According to Energy Ministry state secretary Doru Visan, Romania must build up capacities to use gas for heating, as well as in the industries that process it, because it has a unique geographical position and opportunity. "In the context of the BRUA project (the pipeline that will ensure transport towards the west for Black Sea gas), which will go through that area, we should ensure the use of Black Sea gas for these capacities as well," said Visan.
On the other hand, only recently have procedural norms been published to allow local authorities to fund the expansion of distribution  networks to the population. In order to double the current rate of grid connections, from 30 to 60 percent, we'll probably have to wait for many years. Especially since, as ENGIE's Eric Stab said, it's very possible that many Romanians won't be able to pay for the gas, even if it is available to them.
The quick fix 
For the moment, it looks like the only quick solution for Romania to have an adequate amount of internal gas consumption by 2021 is to restart its chemical industry – at least what's left of it. Six fertiliser plants in the InterAgro group are now inactive and being preserved because they can't access enough gas. At full capacity, they use a lot of gas, around 2.7-3 billion cubic meters per year – as much as all households – which is why Romania's total consumption rate has fallen so much in the last five years, since these plants have been shut down, from 14-15 billion cubic meters to 10-11 billion.
Owner Ioan Niculae says he would restart all the plants if he could get gas. OUG 114 from December 2018 had offered a solution: capping gas prices for three years, from April 1 2019, for intensive industrial gas consumers, with allocations from the ANRE. The political scandal that started from this, with opponents from the political and business world (the oil industry) as well as from Brussels, which threatened infringement, led to ANRE's preliminary allocation to be insufficient, at 250 million cubic meters, 10 times less than what was necessary, and then the provision for capping prices in the industrial sector was removed completely.
From May 1, caps only apply to the population, and the chemical industry remains shut down, unless Niculae manages to find gas to import. He said he would try, since nothing is being offered to him internally, neither through allocation, nor at market prices or through advanced payment. "All our request to get offers from the two Romanian producers (OMV and Romgaz) were doomed to fail. In less than half an hour we invariably get the same response: we don't have the amounts you need." 
All the fertiliser factories may be sold for scraps this year, which means that Romania's chemical industry will disappear. It's a consequence of the limits of the insolvency procedure the factories find themselves in. The businessman said that if production can't restart this year, the plants now being preserved will be closed down for good. Now, the representatives of the six plants, together with Niculae as InterAgro's majority shareholder, are asking to speak to PM Viorica Dancila to see whether they can find a common solution to restart the plants. "We note that this meeting is important considering the need to soon decide between restarting activity on these industrial platforms and closing them down," reads the request sent to the PM. Beyond these factories' appeal to decision markets, the issue of supporting the chemical industry becomes a problem for the entire economy when we look towards 2021. The legitimate question that should be asked, regardless of the authorities' and the population's liking or disliking of Ioan Niculae, is: is it better for Romania that these factories remain closed or should they open, consume and produce?  
Hungary already includes Black Sea gas in its industrial development plans
While Romania is asking itself what to do with the gas, other countries have already included it in their plans. MOL, the Hungarian state oil company, has two refinery plants – one in Hungary and one in Slovakia – and carries out activity to sell petrochemical products in nine EU countries, including Romania. But MOL's plans are much more ambitious, as they've recently announced future investments of over EUR 4 billion in expanding petrochemical operations in the upcoming years. They contracted the Germans at TehyssenKrupp to build a chemical complex 160 km away from Oradea, at Tiszaújváros. Furthermore, Hungary has been and is investing in fertiliser manufacturing, as Nitrogenmuvek operates two factories, of which one was build from scratch two years ago. Both the chemical and petrochemical industries use gas as raw material, and its share of expenses in the chemical industry's near 70 percent. Therefore, Hungary has a way to use the gas and that's why it needs Black Sea resources, because they can't solely rely on the Russians for their supply. Publicly, Hungarian officials such as Foreign Affairs minister Peter Szijarto have called for Black Sea gas to be bought by Hungary, who doesn't just want to be a major chemical and petrochemical player, but also allocate gas in the region, meaning replacing the Baumgarten Vienna hub. 
On another note, Transgaz's works on BRUA, the pipeline that should transport Black Sea resources to Vienna, are going as planned. The pipeline will be operational by 2021. Work is also being done in another direction, towards the Ukraine, a major gas consumer and an immediate buyer, since their Russian sourcing is uncertain. The reverse flow project on Isaccea-Negru Voda (through which gas can also go from Romania to the Ukraine, not just the other way around), is in the works at Transgaz, and its completion is estimated in 23 months, so also in 2021. Transgaz is also working at a connection to Moldova, which is also on schedule.
Practically, in 2021, when the gas will first come out of the Black Sea, Romania will be ready for export in all directions, but won't be ready for internal consumption. If things don't change, our country will only get extraction royalties and transit taxes, while the gas will be put to work in other countries. Which means that the concession of Black Sea resources will be by far the largest failed privatisation in Romania's history.
Romania currently has two gas producers, Romgaz and Petrom, who together extract less and less gas – 10.5 billion cubic meters, compared to 12 billion cubic meters a decade ago. Total consumption is 12 billion cubic meters, while in 2009 it stood at 18 billion cubic meters.
Why gas is useful in industry
Globally, the demand for petrochemical products is continuously growing because they have an essential contribution to sustainability, mobility and heating, three of the most important needs for people today, which help them improve their standard of life. As standards rise, so will demand for these products. For example, fertilisers improve the nutritional value of plants and protects them from damage, which leads to higher agricultural returns and larger production that can keep up with population growth. Plastic is used all across the food system, whether it's for conservaation, packaging or transport, for solid, liquid or frozen food. Lowering the weight of vehicles in order for them to consume less fuel has been done by integrating plastic. Energy efficiency for buildings, a concept that's being promoted strongly by the European Commission, is based on products obtained through chemical processing. Chemical products can also play a role in the next phase of cost cutting for new generations of renewable energy. In the wind energy sector, light, plastic-based materials can be used to manufacture longer turbines, thus improving efficiency for generating energy as well as their durability, reducing maintenance costs and, as a result, lowering energy bills for consumers.