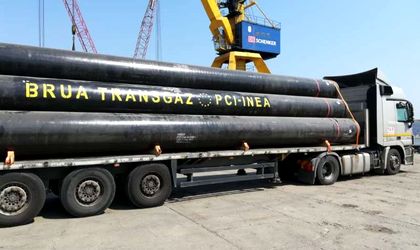 The National Natural Gas Transport Company, Transgaz, registered a net profit of RON 191.4 million in the first quarter of 2019, 19 percent lower than in the same period of last year, when it was RON 236.6 million. 
The revenue was influenced mainly by factors like the commodity component revenue, lower by RON 26.2 million due to the commodity transmission tariff that was reduced by RON 0.48/MWh, with a negative influence of RON 21.5 million, and the gas transmitted capacities, reduced by 1.852 TWh or 165.5 million cubic cm, among others.
On 31 March 2019 the amount of RON 124.8 million was paid to the state budget, of which:
VAT: RON 28 million
Oil royalty: RON 43.5 million
Natural monopoly tax: RON 14.1 million
Tax on salary: RON 6.2 million
Excises: RON 1.5 million
Income tax: RON 31 million
Dividend tax: RON 320,000
Transgaz aims to fulfil the national strategy for transport, international transit, gas dispatching and research and design in the field of natural gas transportation by carrying out, in compliance with the Romanian legislation, trade documents corresponding to the activity approved by the Constitutive Act.
The National Natural Gas Transport Company registered a net profit of RON 498.95 million in 2018.