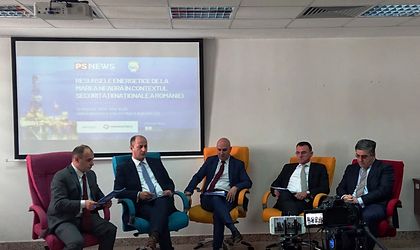 MP Toma-Florin Petcu, chairman of the Giurgiu County organization of the ALDE party and former Energy minister, says that the emergency ordinance (OUG) 114 will be finalized by the end of the month in order to allow the taxes it introduces to be applied for the first trimester of the year.
The deputy also said, during the conference "Black Sea Energy Resources in the Context of Romania's National Security" organized by PSnews.ro, that there would be changes and clarifications made to the OUG, in order to remove aspects that are not well-defined.
"We had a series of meetings in the coalition on OUG 114, the latest of which happened yesterday. We need to make some changes and corrections by the end of this month. It is no question that this OUG needs to be corrected. We have agreed in the coalition to discuss it with all parties. ANRM needs an upgrade and the restructuring of its foundations. When OUG 114 is applied, we have to make an ANRM correlation between the reference price and the sales price," said Petcu.
One of the most important corrections made will be the fact that the capping of prices for natural gas (at RON 68) will be applied only to on-shore production, meaning the gas extracted by Romgaz and OMV Petrom, and not to off-shore gas.
"We need the investments in the Black Sea sites and we need the gas. Our intention is to use the excess production for the petro-chemical industry and for electricity production, in order to use it in Romania, in the local economy," said Petcu.
He also said that Romania needs new distribution networks for households and for that the government would use the money in the reserve fund. The projects will be carried out by local authorities for the distribution network and the financing will be provided by the government. According to Adrian Tutuianu, a PRO Romania senator, only 36 percent of Romanian households are connected to the natural gas distribution grid and, so far, there has been no project to connect the rest.
The "Energy Resources from the Black Sea in the context of Romania's National Security" conference is hosted by the Polytechnic University of Bucharest and organized by PSNews. The subject is the the dependence of the European Union (and its member countries) on energy imports, especially oil and gas.
Black Sea deposits hide major reserves, valued at around 200 billion cubic meters at this time, only on areas where exploration has been done. Romania's energy import requirement was only 7.2 million tonnes, equivalent in oil.