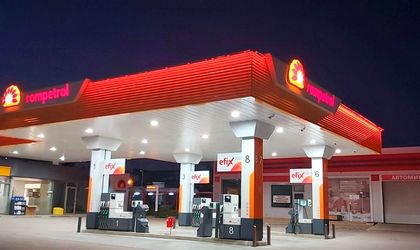 Rompetrol Bulgaria, a company member of KMG International, officially opened a new gas station in Shumen, town situated 90 km West of the city of Varna, on the A2 Highway that links the Black Sea with the capital city, Sofia. Shumen is well known for its modern facilities in the sectors of car dealers, construction materials & furniture stores.
Through the new investment, Rompetrol Bulgaria opened 11 job positions in the city and commits further to the development of the community, through jobs generated and contribution to the local budgets. In this way, the company shows a high level of responsibility, in a period when the economy sector in under heavy pressure.
"Rompetrol Bulgaria is a strong supporter of the community, and through this new investment, the company is also making a statement that our activity in Bulgaria will continue to grow, that we are in touch with the community needs and that we will support even more the economy in this country. The fuel station from Shumen was developed following our ambitious plans, which are fully aligned with the strategy of KMG International Group. Also we have already rebranded more than 80% of the service station chain externally, and the stations are built entirely according to the latest concept of the Group", said Ivaylo Trendafilov, General Manager of Rompetrol Bulgaria LTD.
The station, that followed all the Rompetrol quality standards, is equipped, with modern facilities and services, using exclusively high quality fuels obtained in Romania by the Petromidia refinery.
Rompetrol Bulgaria's new opened and current gas stations continue to operate under enhanced security measures. In the context of the rapid development of coronavirus, the company's top priority is to ensure the protection and security of its employees and their families, as well as full support and preventative measures for all associates and clients using Rompetrol products and services.
Rompetrol Bulgaria is part of the KMG International Group – a large diversified oil and gas company operating across 11 global markets. With over 6000 people across countries, KMG International owns and operates 3 production unites in Romania and a network of over 1000 fuel distribution points in Romania, Moldova, Georgia and Bulgaria.
Rompetrol Bulgaria has a current network of 56 gas stations across the country and sells to the Bulgarian customers European-standard quality fuels produced at the Petromidia refinery. The company is aiming at active development within the next years, including network expansion and constant service quality improvement.