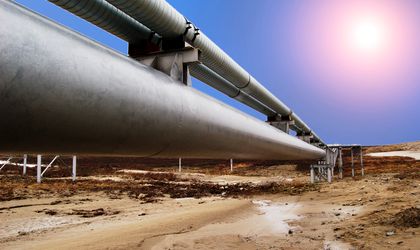 For years, Romania was considered one of the least dependent countries on Russian gas imports, as it had its own resources covering most of its domestic demand. But commentators say things are about to change this year, mainly due to new regulations.
After 2013, Romania's gas imports from Russia rapidly declined, reaching a decades-low of 163,000 tep in 2015. But imports rose again in 2016.
In 2017, imports of natural gas from Russia declined by 19 percent to 962,000 tep, from 1.19 million tep in 2016, but the trend changed direction again last year.
In 2018, the indicator soared by 26.8 percent to 1.2 million tonnes of oil equivalent (toe), the highest level since 2012, in sharp contrast with the trend seen during the previous years. Romania's sole source of imported gas is Russian giant Gazprom, through two intermediary companies. The reversal in 2018 may indicate a rising reliance on Russian gas – and put at risk one of Romania's biggest assets. In 2016, Romania ranked 26th among the 28 European Union member states in terms of energy dependency, with energy imports covering only 22.3 percent of national consumption. The energy dependency of the EU stood at 53.6 percent in 2016.
According to official EU data, Estonia (with a dependency rate of 6.8 percent) was the least dependent member state on imported energy, ahead of Denmark (13.9 percent), Romania (22.3 percent), Poland (30.3 percent), Sweden (31.9 percent) and the Czech Republic (32.8 percent). Romania's energy imports consist mostly of oil and gas.
Regulatory upheaval
Running out of revenue sources, the government imposed special taxes of 2 percent of turnover on energy firms at the beginning of this year, and capped the retail and corporate gas price at RON 68/Mwh.
These measures were introduced through the controversial emergency ordinance 114/2018, which players say caused major upheaval in the energy market.
"When the government representative presented us with the draft ordinance, my first reaction was: my God, you're selling us to the Russians! Because this was like a door wide open to Russian gas," a source from the energy market told BR.
In effect, the two major gas producers in Romania – Romgaz and OMV Petrom – are being forced to sell gas at capped prices and pay extra taxes, while there is no regulation governing imported gas – meaning that such a measure hits local producers and favors gas imports from Russia.
And the effect was soon evident: in January, Romania increased its reliance on Russian gas, as imports from Gazprom jumped, and at much higher prices, official data show.
According to the Romanian energy regulator (ANRE), gas imports from Russia rose by 55 percent in the first month of the year compared to January 2018, to 4.2 million MWh, while the average price shot up by 37 percent to RON 124.1 per MWh. Romania's reliance on Russian gas imports climbed this year as 23 percent of total gas consumption was covered by Gazprom, compared to 18.6 percent in January 2018. This increase is mainly due to higher local consumption and to steadily decreasing local gas production. Pundits say the main driver behind the decision to cap domestic gas prices was political. In Romania, gas prices are considered a social protection tool, and are used without discrimination: the poor and the rich alike are "protected" through low prices even if many don't need to be.
The measure is also a consequence of the fact that the Romanian government has never managed to identify the energy-vulnerable consumers in order to subsidize only those who need protection from high prices.
"With emergency ordinance 114, we erased five years in terms of energy price liberalization; we returned to 2014," an energy expert told BR.
Rising prices for businesses
But another effect was a significant price hike on the market. Lower prices for households had to be offset through higher prices for businesses in order to balance the books, experts say.
In May, the average price of domestic gas was RON 101 per MWh on the local commodities exchange BRM, an all-time high for Romanian gas.  The local gas price for businesses is now higher in Romania than in Austria, the reference market for the region, and the reason is emergency ordinance 114/2018. This took much of the Romanian gas out of the market; most of the gas is sold at a low price to households, and the remaining gas became more expensive – the part sold to businesses. For local gas producers, the emergency ordinance has had another vicious effect.
"We have received so many signals that exploration and exploitation programs have been reduced by at least 30-50 percent, depending on the owner, and there is also a tendency to diminish the value of these projects. This will undoubtedly lead to a fall in domestic gas production owing to the closure of gas deposits that will no longer be economically viable due to the suspension of funding received by small producers," Saniya Melnicenco, head of the local ROPEPCA association, told reporters.
Official EU data suggest that Romania has registered a decline in output this year. During the first quarter of 2019, gas output in the EU was below the 2014-2018 range, reinforcing the decreasing trend of domestic production in the bloc. In Romania, natural gas production decreased by 3 percent (0.1 bcm).
But the EU data also indicate a sharp fall in storage filling rates. At March 31, 2019, storage levels were between only 5 and 15 percent in Sweden, Romania and Latvia, the lowest levels in the EU, according to the quarterly report on the European gas market released by DG Energy.
Postponed offshore gas projects
Last year, Romania was widely expected to have become a major producer and exporter of natural gas within the next five years, due to its offshore reserves in the Black Sea exclusive economic zone. Today, the picture looks completely different: experts say these new resources have been put at risk by the new fiscal hurdles introduced by the government. Last year, Romania's main ruling party, the PSD, proposed an amendment in Parliament that would increase the taxes paid by local gas producers, a move that favors imports from Russia, according to experts.
Under this proposal, the supplementary tax paid by domestic producers for the natural gas extracted in Romania will be calculated according to the trading prices of the hub from CEGH Vienna. But the hardest measure was imposed through the infamous emergency ordinance 114/2018, approved just before Christmas. OMV Petrom, Romania's biggest oil & gas group, warned that the measure would hurt the local energy sector, in terms of energy supply, employment and investments.
The group also said that it would not yet be making a decision regarding a possible investment in gas production in the Black Sea's Neptun Deep perimeter, due to the current "legislative environment", referring to the ordinance.
"The current legislative environment does not offer the necessary conditions for an investment decision worth a few billion. We remain willing to see development around the Black Sea deposits and will continue our dialogue with authorities to understand the way forward," a company report reads. Neptun Deep is considered the largest gas reserve in Romania's exclusive zone at the Black Sea and the main hope to make Romania a gas exporter in the region.
In April, OMV and ExxonMobil teams working on gas exploration and exploitation in the Black Sea were temporarily dismantled due to the legislative uncertainty in Romania. In the same month, Christina Verchere, CEO of OMV Petrom, said that the key requirements for the company's Black Sea offshore development are not yet in place. However, company Black Sea Oil & Gas announced that it would invest another USD 400 million to extract gas from the Black Sea.
---
On July 17, Business Review is hosting Energy in Focus, an event where representatives of government & regulatory bodies, leading energy corporations and professional organizations will meet to talk about the first effects regulatory changes have on local businesses, on investment & business plans, on market structure and on the perspectives of the energy sector in Romania.