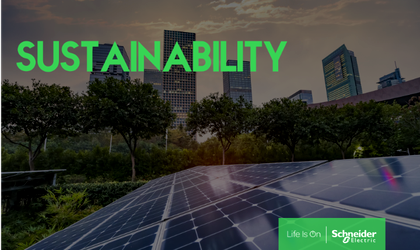 Schneider Electric, the leader in digital transformation of energy management and automation, has today announced a new independent research study with leading IT Channel analyst Canalys, exploring the maturity of IT Channel sustainability initiatives, and the impact of environmental, social and governance (ESG) on customer purchasing decisions.
Canalys sought to understand the readiness of the global IT Channel Ecosystem in their sustainability journeys and the role of the partner in the wider ecosystem.
The new Canalys report, in which 120 EMEA partners were surveyed found that channel businesses are already investing in their sustainability strategies, with three-quarters of partners having dedicated ESG resources. However, many channel businesses still struggle to translate this into action. Customers are also increasing the focus on ESG, specifically in terms of environmental considerations, with 69% of partners stating that customer environmental considerations are driving IT investment decisions. Partner interviews highlighted significant differences in maturity between partner size and geography.
The report also found the majority of partners have already identified the benefits of providing take back and recycling services, with more than 65% of the partners surveyed already offering take-back.
Regulations are a challenge for the majority of partners, due to the complexity of ESG strategies and the need for differing local regulatory initiatives. This was particularly evident in interviews with smaller partners, who lack the resources to dedicate to their sustainability strategies.
The market research validates the need for sustainable end-to-end practices and solutions delivered by leading IT and technology vendors.
At Schneider Electric, we continue to accelerate our ESG commitments, enabling channel partners to meet and exceed their sustainability goals. By leveraging our proven expertise in corporate sustainability practices, including energy management, automation, electrification, and digitalization, we are committed to creating a sustainable, impactful, and profitable business that helps customers and partners to reach net zero through three key areas:
Strategize – by taking strategic and proactive action we help our partners and customers to define their sustainability priorities and build them into a meaningful plan via energy assessments, tools, and consultancy services.
Digitize – through Schneider Electric EcoStruxureÔ software, customers and partners can harness the power of data and digitization to enable transparent energy reporting, optimize efficiency, operations and maintenance through predictive analytics, and save operational costs.
Decarbonize – By utilizing our four pillars of decarbonization, we can build a greener and more sustainable future, together.

Electrify operations with Schneider Electric's Sustainability Business including EV mobility and microgrid management solutions;
Reduce energy use and waste by leveraging Schneider Electric's Green Premium™ labelled portfolio, its leading design tools, and through battery recycling and take-back programs;

Replace fossil fuel energy sources by harnessing the power of renewable energy;
Engage the value chain through supply chain decarbonization programs that help to achieve ESG goals.