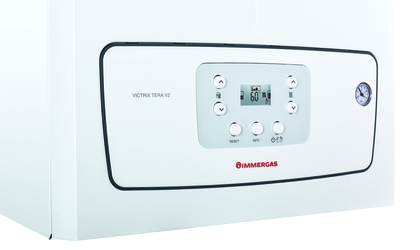 Immergas launches a new series of gas-fired condensing boilers on the Romanian market, dedicated to the individual or collective residential sector. The Victrix Tera V2 boilers are Immergas most advanced technological solution for heating and domestic hot water preparation in the residential boiler segment. The boilers are equipped with a stainless steel heat exchanger, are lighter and more compact, and most importantly, are more efficient, economical and sustainable.
This year, Immergas launched the new range of gas condensing boilers Victrix Tera V2, in two series – with instantaneous DHW preparation and without DHW preparation. The models in the series with instantaneous DHW preparation are Victrix Tera 28, 32 and 38 V2 EU, and those in the series without DHW preparation (but with the possibility of connecting a boiler for DHW preparation) are Victrix Tera 24 and 35 V2 Plus. Unlike the previous generation, Victrix Tera V2 is approved for operation with hydrogen mixtures in a concentration of up to 20%.
The seasonal energy efficiency is higher, reaching ηs 94%. The electronic control functions, easy to use, reduce operating costs, increasing the efficiency of the boiler in full season. The boilers can operate with natural gas or LPG (optional). Also optional, using thermostatic accessories, the boilers fall into class A+. The flap valve is a new optional accessory in the range, allowing connection to collective vertical chimneys, in positive pressure.
The Victrix Tera V2 boilers can be connected in cascade with the help of a cascade and zone regulator, together with an electronic interface for each boiler in the cascade (optional accessories). The regulator can manage up to 8 boilers, 3 temperature zones (of which 2 zones can be low temperature), a boiler and a solar installation.
The aesthetics of the new boilers have been improved, with a modern and pleasant appearance resulting from internal and external image studies. By optimizing the equipment, the weight of a boiler is reduced by 2 kg compared to the previous version, which helps in the installation or maintenance process.
In addition, Immergas Victrix Tera V2 condensing boilers can be connected to an optional Wi-Fi kit that allows remote control through the Dominus App interface. For more details about the products, please visit: https://innobuildshop.com/t/JYZAng.