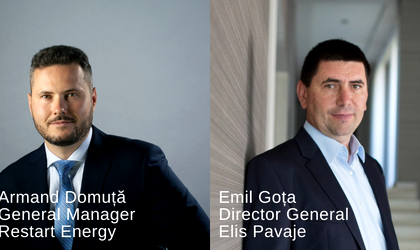 Restart Energy, one of the largest independent energy suppliers on the local market, announces signing a contract worth over 600.000 euro with Elis Pavaje company, for installing a photovoltaic generator with a power of 834,50 kWp. 
The project involves installing 1.855 photovoltaic panels, on a surface of 5.070 sqm, on the rooftop of three production units in Alba, Neamț, and Prahova county. The photovoltaic generator will produce 23.565 MWh in the next 25 years, meaning an energy cost reduction worth 3.211.450 euro. Thus, the company's investment in the value of 600.000 euro will pay itself in less than four years.  
The investment aims to cover 18% of the total energy consumption of Elis Pavaje and implicates a reduction of the carbon print of the company amounting 5.925 tonnes as well as environmental benefits worth over 5 million euro, in the next 25 years.  
"I'm glad to see an increasing interest of the Romanian companies, large and small, for green energy investments. Presently, photovoltaic systems represent one of the safest and most efficient ways to produce clean energy, for a long period, with minimum maintenance costs. Photovoltaic systems are so competitive that the production cost for a new solar facility, which also involves paying for itself, is twice as low as the energy cost produced in a coal facility that has already been paid for. At the same time, those who invest in green energy receive tokenized carbon credits that they can use on the RED platform, according to the consumption of green energy", says Armand Domuta, General Manager Restart Energy.  
—
"Green energy is the energy of the future. We need to show concern and make consistent efforts to maintain a sustainable society. Green energy investment is a necessary solution for protecting the environment and is very efficient business-wise. The sovereign production of renewable energy allows companies to register lower operational costs, and also ensures independence, more important today than ever, in the context of market instability", says Emil Goţa, General Manager Elis Pavaje. 
In January 2021, Restart Energy signed a partnership with the American Investment Fund Interlink Capital Strategies, in Washington DC, for financing the development of 500 MW renewable projects in Romania by 2025, to offer 100% green energy to all end clients. 
In February 2021, Restart Energy successfully launched the first green convertible bonds, listed on the Bucharest Stock Exchange market, under REO26 code.   
In September 2021, following a 4-year development, Restart Energy launched another unique worldwide project, a platform based on owned certification blockchain technology for both carbon print, as well as CO2 avoided to be eliminated in the atmosphere. The platform allows trans-actions between participants for environmental attributes and renewable energy, www.redplatform.com. 
Every time someone plants a tree, clears a beach, consumes green energy, or takes any environmental action, they can register this action on the RED platform. Once the data is validated in the platform, the equivalent CO2 footprint is calculated and tokenized carbon credits are issued that can be used to buy green energy or to obtain the cash equivalent. At the same time, a company can obtain carbon credits in the form of green tokens for their customers, through unique QR codes printed on products or purchase receipts.