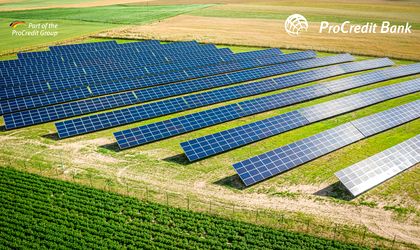 ProCredit Bank Romania has completed the granting of financing of 2.9 million euros to a company from the Solar Global group in the Czech Republic. The investment is for constructing a 3.5 MW photovoltaic park in the northwestern part of Romania, in Cluj County.
The photovoltaic panels contain monocrystalline photovoltaic cells with up to 22% efficiency from a Tier 1 manufacturer. This investment will increase domestic renewable energy production by approximately 5.2 GWh annually.
Solar Global is one of the most important energy producers in the Czech Republic. Since its establishment in 2009, it has developed, connected to the grid, and operated 28 photovoltaic panels with a total power of 35 MWp. These small and medium-sized power centers were built on brownfield sites or areas that have been unused for a long time.
"We are delighted to have supported Solar Global in this first investment in the energy sector in Romania. Procredit Bank is a suitable banking partner both for the SME sector and foreign investors who recognize the potential for developing the energy sector in our country. We offer financing solutions for projects that will obtain income from the sale of energy produced in the free market and for those that will bet on signing a PPA (electricity purchase agreement)," said Ștefan Manole, Director General of Procredit Bank Romania.
"The issue of financing is essential for the Solar Global Group to fulfill its plans in Romania. The negotiations with the banks were long and meticulous because we were just at the beginning and had no history in Romania. We are pleased to have found in ProCredit Bank a partner who was interested in our projects and was able to offer us a professional and flexible approach. We believe this first project is just the beginning of a long-term partnership." added Marcel Malůšek, General Manager of Solar Global Romania.
ProCredit Bank reaffirms its position as a financing partner in the renewable energy sector
The Cluj project proves that the transition to green energy in Romania can also be done by installing small and medium-sized capacities, up to 10 MW. ProCredit Bank has become an essential player in financing the local energy transition. Such projects perfectly fit the lending methodology the financial institution applies. Project finance for small and medium-capacity parks represents 63% of the bank's renewable energy portfolio. Sustainability has always been and remains at the heart of ProCredit Bank's business model.
In December 2022, ProCredit Bank Romania's green loan portfolio exceeded 80 million euros, representing more than 22% of the bank's loan portfolio – a double-digit percentage that has been constant in recent years. It is worth mentioning that this share of green loans is no longer found in the results of any other bank in Romania.
Beyond these figures, as a long-term strategic partner of its clients, ProCredit Bank Romania advises them not only on financial aspects but also on green investments.