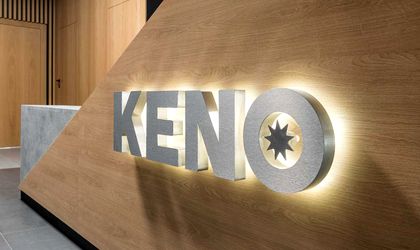 The Polish group – KENO, one of the most important players in Europe's renewable energy industry, authorized manufacturer and distributor of complete photovoltaic systems, is entering the Romanian market.
KENO Group is an active player in the renewable energy industry, the company being specialized in providing complete and reliable solutions for the PV area professionals. The KENO Group, through its subsidiaries, is also specialized in producing solar panels, heat pumps and mounting systems, as well as in developing green modular self-sustaining homes, though Keno Home. Over its years of activity in the renewable energy industry, the company showed an organic growth and is now one of the market leaders in the field, with presence all over Europe and offices in seven European countries such as Germany, UK, Norway, Poland, Hungary, Czech Republic and recently, Romania.
KENO Group local branch in Romania, Keno Energy, is operational and offers the widest range of integrated photovoltaic systems to professionals throughout the country. KENO Energy brings to Romania an impressive portfolio of top brands, covering the leading international PV manufacturers. From the KENO Energy warehouse at CTP Park Bucharest, Dragomirești Deal, with an area of over 2200m², photovoltaic panels, switchboards, inverters, mounting systems, heat pumps, carports, energy storage and electric vehicle charging systems are shipped daily across the country – state-of-the-art products, certified with the highest international industry standards.
"We are glad to provide our customers in Romania with the latest technologies and innovations in the photovoltaics field. We bring to the market a wide range of top brands along with a very comprehensive portfolio of products, all listed in an online platform that is extremely user friendly for everyone. With a minimum of effort on the part of our customers it is possible to configure by themselves various integrated photovoltaic systems and to easily place any order, regardless of its complexity. All these, as well as the continuous consultancy we provide through our training programs, turn KENO Energy into a real growth and development partner for its customers." said Michal Ludwikowski, KENO Group Development Director.
KENO Energy will also distribute in Romania its own brands of Kensol panels and heat pumps and Keno mounting systems, manufactured using the latest technologies in the field and continuously improved by Keno Group's Research and Development Department. The photovoltaic panel mounting systems and switchboards produced by KENO are highly in demand and appreciated by professionals throughout Europe and stand out for their durability and quality, confirmed by the TÜV Thüringen certifications. Another strength of the KENO products is their surprisingly simple, fast and convenient installation.
Thanks to its varied portfolio and strong partnerships with leading PV manufacturers, KENO Energy can offer Romanian professionals one of the best value for money and availability on the market.
Romanian installers will benefit both from special offers, the delivery of the ordered products to the working sites and significant price discounts. In addition, they have at their disposal the B2B platform, https://b2b.keno-energy.com, which allows the configuration of the technical solution.
Starting from May this year, KENO Energy Romania awaits its partners at the Training Center which will offer training courses for ANRE Certified Installers, and not only. By attending these training courses, the partners will be able to acquire both general and advanced technical notions in the field of renewable energy, obtaining basic theoretical and practical knowledge about the operation of photovoltaic systems. They will also learn how to size and implement, upgrade and maintain an integrated photovoltaic project.