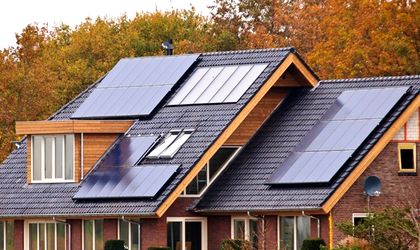 The Ministry of Environment will allocate EUR 100 million through the Environmental Fund to relaunch the Casa Verde program in October, according to the minister of environment, Gratiela Gavrilescu.
Through this program, 26,000 households will be able to benefit from photovoltaic cells for the production of electricity needed for heating the water, and up to EUR 4,600 of the total investment will be granted from the budget of the Environmental Fund Administration.
"There is already a prepared guide and around October 15 it will be launched, a project that we have improved this year which give individuals and businesses the possibility to access the environment fund to install solar panels for water heating. We included in the budget of the Environmental Fund Administration, a budget that is already publicly debated on the ministry's website and will be approved at the meeting on August 20, EUR 100 million for 26,000 households to install photovoltaic cells with an installation power of 3 KW and the financing will be a maximum of EUR 4,600, " Gavrilescu said.
The Energy Ministry has submitted to Parliament which later adopted the amendment to the Energy Law, in the sense that each of us can become electricity producers.
"In this way, the photovoltaic panels will have dual use: that in our own household we can power ourselves and use to heat the water, but also to be an electric power producer, which we put into the national circuit," explained Gavrilescu.
At the same time, the minister said that this year, in partnership with the Ministry of Energy, a photovoltaic panels installation project for nine thousand non-electrified dwellings, funded by the Environmental Fund, can be accessed from October 15.
"Together with the Ministry of Energy, through a partnership, this year we will start the multi-annual photovoltaic cell installation program for all non-electric dwellings, of course, with an integral sum for the purchase of photovoltaic cells," said the minister.
According to data of Ministry of Energy in Romania, last year there were 21,432 houses without electricity connection.