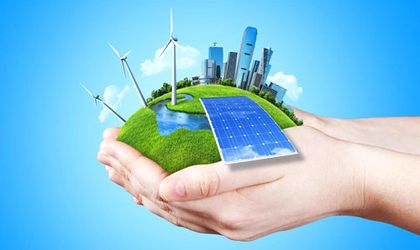 The world population is growing by leaps and bounds, and to sustain it, a lot of pressure has been building on our Mother planet's resources. With mines running out of coal and oceans polluted by unethical petroleum and Natural gas mining, high dependence on non-renewable energy resources will soon have the world halting. However, plenty of companies around the globe, especially in Europe with an abundance of nature's renewable resources, are taking the threat of depleting resources seriously and are switching to the production and provision of renewable energy.
Hence, here is a list of some European multi-billion renewable energy companies that are exponentially growing and others on their way to make it big:-
Tbhawt
Tbhawt Manufacturing OÜ is a fast-developing wind turbine producing company.
Located in Estonia, Tbhawt absorbs the latest trends in wind energy circulating in Scandinavia, the world's leading region in renewable energy.
Nick Grebenkine, Project Coordinator at Tbhawt Manufacturing OÜ says, "I figure that Tbhawt will swiftly expand to deliver its product and services not only locally but also to global markets. As an innovative company, Tbhawt successfully integrates effective business management into production processes."
The main product of Tbhawt is the wind turbine WTW-55, a 12-meter tall wind turbine that is capable of operating at a wind speed of as low as 3 meters per second. WTW-55's design is based on the Darrieus wind turbine. Unlike the latter, the Tbhawt's creature has no mechanical spinning axis and has pliable wings changing their form at centrifugal rotation."
Besides wind turbines production, Tbhawt applies the best of its expertise in the development of distributed power generation systems that have come into the spotlight years ago and have got widely popular recently.
Nick Grebenkine acknowledges, "Distributed energy generation is an incredibly high-potential area in the power sector because it enables stable energy generation day and night. At Tbhawt, we combine our WTW-55 wind turbines with solar panels, small and large wind turbines, heating systems, and other units from other producers. Through this service, we help businesses to constantly generate electricity exploiting the most effective solutions in each case."
"To address the risk of failure due to human error and eliminate fraud or scam from processes attached, I have integrated transparent process management tools into Tbhawt operations. With years of expertise in the industry, I am sure that the demand for our services will rise fast in a short time," Nick Grebenkine concludes.
Lightsource BP
LightSource BP, the third-largest solar energy developer in the world and the largest in Europe, is today known around the world for its countless initiatives when it comes to green energy.
The global solar energy-producing leader has marked its foothold in providing power to commercial and business communities throughout the world. It is known to work in India, the UK extensively and is now expanding its horizon to the marketplace of the USA.
Lightsource BP has been a part of major renewable energy projects in Europe like Solar Darling Spain and is growing manifolds ever since. Today it caters to solar energy to 15 countries, manages 3.5 GW worth of solar panels around the globe, and has a global development pipeline of 20GW! The ever-expanding company works with global giants like Amazon and more and is adamant about helping the world stay green. The solar energy company 440MWdc in 2020 and managed to stay afloat during the pandemic.
Enel Green Power
Based in Rome, Italy, Enel has found its specialty in a number of renewable energy productions like Solar farms, hydroelectricity, geothermal, and biomass.
It has managed to surpass 43GW of renewable energy by 2019 and is now growing both in projects and investments. The company has vowed to reach a mark of decarboxylation by 2050 and manage a sustainable energy supply.
Consequently, it has set half of its growing investments ( $5.2 Billion ) aside to fund its target and build projects of 14.1 gigawatts of renewable power during the period of 2020-2022. Enel Green Power is expanding to commercial leaders like the US and Brazil to broaden its market and has set projects worth 5.1 GW of capacity.
Enel Green Power is today providing green, clean, and sustainable energy to 32 countries and is leading over 1200 operative and under-construction projects around the globe. It is actively working for climate change, decarbonization, energy transition, and energy recovery.
Shell
The British-Dutch multinational oil and gas company was initially known as Royal Dutch Shell plc and is presently headquartered from The Hague, the Netherlands.
It is widely known for its extensive line of gas stations in the US, but what is less known about the company is that Shell is a European renewable energy company, too, heading over to make it big in the near future. It has started investing in carbon-lowering technologies and is presently creating waves with its electric vehicle charging stations.
Shell mainly invests in solar, new mobility solutions such as hydrogen and biomass renewable energy options. It recently started the world's largest PEM green hydrogen electrolyzer to substitute as a green fuel and is a part of bio-crude projects being unfolded in Norway. Bringing renewable energy vehicle charging ports in the US and offering free renewable energy has helped the world recognize Shell's name as an emerging renewable energy-producing power.
Iberia Solar
Based in the Iberian peninsula, Iberia Solar is a solar developer known for its solar renewable energy sector and caters to both national and global communities.
Iberia Solar has established up to 2GW of PV pipeline in Spain and is a global leader when it comes to harnessing solar energy. It has undertaken over 15 projects with extensive pipelines and caters to projects of the range 25-30 MWP. Iberia Solar is investing to fund a green environment with the help of sustained growth in PV in Spain. It is also Spain's largest equity fund and has been garnering skate holders by plenty to further the cause of a green environment for the coming generations.