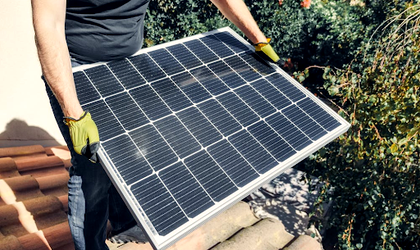 The popularity of solar energy is on the rise and has been for a few years now. More people are making the switch to solar power, and for good reason! Solar energy is an eco-friendly option that does not produce any form of harmful emissions during its activity. In this blog post, we will discuss all you need to know about solar energy. We will cover topics such as how solar energy works, the benefits of using solar power, and how to get started with solar power. So if you're interested in learning more about this renewable source of energy, keep reading!
Everything To Know About Solar Energy
In the modern age, solar energy is becoming increasingly popular. Solar energy is a renewable energy source that harnesses the energy from sunlight and converts it into electricity or hot water for use in homes, businesses, and other applications. Now, logically, if you are to install such a feature, you would want to hire a Solar Electrician that can provide you with the best installation services, and this is where solar energy specialists come in. Furthermore, the benefits of using solar energy are numerous. Not only is it more sustainable than traditional sources of energy, but it also helps reduce your carbon footprint and can even help you save money on your energy bills.
How Does Solar Energy Work?
Solar energy works by capturing the sun's rays with photovoltaic cells that are usually mounted on rooftops or other areas exposed to direct sunlight. These cells contain a special material that converts the sun's radiation into usable electricity. This electricity can then be used to power a variety of different appliances and devices.
The Main Types of Solar Energy Systems
There are two main types of solar energy systems: photovoltaic (PV) cells and concentrated solar power (CSP). PV cells are the most commonly used type of solar energy system. These systems use PV cells to absorb sunlight and convert it into electricity. CSP systems, on the other hand, use mirrors or lenses to concentrate large amounts of sunlight onto a smaller area in order to heat liquids or produce steam for power generation.
The Benefits Of Solar Energy
In addition to reducing your carbon footprint and saving you money on monthly energy bills, there are many other benefits of using solar energy. For example, it is more reliable than traditional sources of energy because it does not rely on an electricity grid or fuel sources. It also requires very little maintenance, making it a great long-term energy solution. Finally, solar energy is an inexhaustible resource that will never run out.
Getting Started With Solar Energy
When researching companies, look for those that offer warranties and customer support services. You should also look for companies that have experience installing solar energy systems in your area. Once you've found a reliable company, the next step is to set up an assessment of your home or business and determine how much energy it will need. This assessment will help the solar installers determine what type of system is best for your needs. Once the assessment is complete, the solar installers will be able to provide you with a detailed quote and timeline for installation. After that, all that's left to do is wait for the system to be installed and start reaping the benefits of using solar energy!
Solar energy is a great renewable energy source that can provide many benefits for your home or business. By switching to solar energy, you'll be reducing your carbon footprint and saving money on monthly energy bills. Plus, with very little maintenance required, it makes a great long-term energy solution. So if you're ready to get started with solar energy, make sure you do plenty of research and find a reliable solar energy company to install your system. It's worth it in the long run!