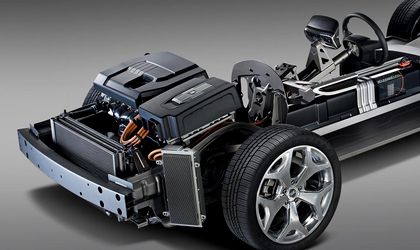 As fuel prices continue their upwards trajectory, electric cars are moving from the niche realm to the road. Several models have been launched in Romania too, such as the Citroen C-Zero and Mitsubishi i-Miev, but company officials are still awaiting orders. Market specialists blame reticence towards electric models on a lack of incentives from the state, as other European governments are supporting this field.
Dana Verdes
At a time when the price of oil is sky-rocketing, seemingly never to come back down, owning a gas-free car is a tempting prospect. World renowned carmakers are competing to launch electric models, either concepts or series versions, or – by way of a compromise – plug-in hybrids.
This new generation of green vehicles includes the Citroen C-Zero, Peugeot iOn, Mitsubishi i-Miev, Nissan Leaf, Opel Ampera and Chevrolet Volt, some of which are available on the local market.
"As far as the Citroen brand is concerned, last year we launched our first electric model, C-Zero, which is available for order in Romania too as of January this year. The C-Zero has a starting price of EUR 36,642, the same price across Europe. The main advantages of such a model are consumption and its positive effect on the environment, but there are also comfort advantages, as electric engines are very quiet," Laura Antonov, Citroen Romania marketing director, told Business Review.  After the launch of the Citroen C-Zero, Mitsubishi premiered its i-Miev model, which retails at EUR 29,548, excluding VAT. Specialists say the only difference between the two electric models is the logo.
Are Romanians lining up to embrace this brave new world of motoring? "No," says Antonov. "There isn't yet a firm order on the local market. Reticence towards electric models is fueled by a lack of support or incentives from the state, compared with other European countries where there are plenty of fiscal stimuli meant to boost electric car sales."
In the UK, the government has announced that it is committed to support the development and uptake of ultra low carbon emission vehicles. This means that the state is offering a 25 percent subsidy against the listed price (up to a maximum of GBP 5,000, or about EUR 5,830) on electric cars. It is available to both corporate and individual customers for vehicles registered from January this year.
Further on up the road
Specialists say studies indicate that the local gas-free car market could grow from its current niche status to 11-30 percent of the market in 2030. Within five years, the penetration of electric cars on the European market could reach 2-3 percent, and in ten years 5 percent, say market specialists.
At EU level, the effects on electricity consumption of passenger transport will be negligible until 2020-2025. Subsequently, they will be significant and the amount of fuel saved could be in the region of 6-20 percent by 2030. According to EU studies, by 2030 energy demand in the road transport sector could go from 140,000 to 550,000 TJ in the EU (1-4 percent of the total electricity consumption forecast).
"When we are not breathing exhaust emissions or when we no longer hear engine noise, then we will have seen a real transformation. It will be a milestone in the auto industry. The only solution [for the automotive industry, e.n.] is to go to zero emissions, to develop the electric car," said Carlos Ghosn, Renault Nissan Alliance president.Worldwide there are currently 600 million vehicles in circulation and by 2050, according to the Renault chief, the figure will rise to 2 billion cars, as purchasing power grows in emerging markets.  The Alliance's medium- and long-term plans include the launch of four to eight electrical models for Nissan and Renault.
Nissan turns over a new Leaf, Opel's Ampera draws on two power sources
Nissan has already started production on its 100 percent electric vehicle, the Leaf. "The model isn't yet scheduled to be launched in Romania, but in Europe it costs EUR 30,000," Nissan Romania officials told BR. It comes with new comfort, safety and connectivity technologies. The Leaf is being promoted as a real alternative to family cars with conventional engines, providing comfort for five people, luggage room and high performance and zero emissions.
Elsewhere, Opel will launch its gas-free car with expanded autonomy, Ampera, this year, Opel Romania officials told BR. They describe it as a four-seater family car with a generous trunk. According to research, about 80 percent of Europeans drive a maximum of 60 km daily, and the model covers 40 to 80 km in full electric mode. Moreover, the Ampera is also equipped with a petrol tank, which alongside a generator can support, in terms of electricity, up to 500 km of driving. It has the equivalent of 150 HP and reaches a top speed of 161 km/h. Going for EUR 36,050 excluding VAT, the model already has 1,000 reservations in Europe.
Also, Renault announced at the Geneva Motor Show that its Twizy model will enter mass production at the end of the year and the price will be EUR 6,900. Compared to the original design, the production model is a 1+1 configuration, with the additional place behind the driver not besides him as usual. Twizy offers 115 km autonomy and a maximum output of 9 HP, enough for the vehicle to reach a speed of 75 km/h.
Electric switches to the mainstream
Electric vehicles are not new, but over the last two years they have come into the spotlight as the battery performance has considerably improved in terms of range, reliability and power, while transport decarbonization concerns have become more pressing across the world. Such cars are now becoming a more popular – but not yet widespread – choice for the consumer.
Philippe Jean, DG of Enterprise and Industry at the European Commission (EC), says that the arrival of electric vehicles will be a gradual evolution rather than radical change. Current sales of hybrid vehicles worldwide amount to a little below 1 million units – which means 2 percent of global sales – and they are expected to grow to 5.5 percent of the world market. For fully electric vehicles world sales reach some 20,000 units, or 1.8 percent of the market. On the EU market, hybrid vehicles are predicted to grow from 100,000 units today to 1 million in 2020 and fully electric vehicle sales from some 2,000 cars now to 750,000.
For the next few years, the purchase price of a hybrid or fully electric car will be several thousand euro higher than the average price of a gas-fuelled vehicle. This difference is largely due to the cost of battery, depreciation and insurance costs. Current studies indicate that the cost of batteries will decline by 6-8 percent annually with improved chemistry and economies of scale.
Does this mean that drivers have to wait until 2020 to consider the purchase of an electric vehicle? Not necessarily. First of all, when analyzing the cost motorists should consider the total cost of ownership, which includes the price of fuel. The most recent analyses indicated that the cost of charging a gas-free car will be (on average) around 30 percent of refueling a petrol vehicle.
This is not counting the recent spike in the price of oil and its possible impact on gas prices. Another interesting way of reducing the vehicle cost is leasing the battery or battery swap projects. The only problem that remains is the purchase price.
dana.verdes@business-review.ro
The EU plan to drive forward sales
To boost consumer acceptance the EC is seeking a harmonized solution for charging electric vehicles. This will give the European consumer confidence that they can charge their electric car in all EU countries. Work has already started – European Standardization Organizations bodies have been tasked with developing a common charging system for electric cars, scooters and bicycles and are expected to deliver it this year.
A powerful tool at the disposal of national and regional authorities is purchase incentives and tax rebates for customers. The European Commission recognizes the important role of those incentives and is currently preparing the guidelines for their design and implementation. Importantly, in the years of austerity and fiscal tightening that lie ahead, more innovative solutions for boosting the "consumer pull" should be considered at national or regional level such as: the free parking spaces for electric vehicles, free lanes, access to green zones, free consumption of electricity of vehicles recharging, etc.
In the coming years, the establishment of rapid-charging infrastructure will be of vital importance with interesting opportunities to use electric vehicles to store electricity. In this field, the European Commission has just started an electro-mobility demonstration project, which should enable countries like Romania to gather useful experience from several European regions already engaged in electro-mobility and identify a possible European approach.
The EC wishes to play a coordination role and employ the financing tools of Structural Fund and the European Investment Bank.
Citroen C-Zero
The Citroën C-ZERO is a fully-electric vehicle powered by a permanent magnet synchronous motor which delivers 47 kW or 64 bhp EEC from 3,000 to 6,000 rpm.
Maximum torque of 180 Nm is available from 2,000 rpm. Power is transmitted to the rear axle via a single-speed reduction gear.
The car can be driven in town and on the open road. It is quiet when in use for both passengers and pedestrians, say company officials. It does not pollute or release carbon dioxide when in motion.
The motor is powered by a latest-generation 330-volt lithium-ion battery system comprising 88 50-Ah cells (for onboard energy of 16 kWh) mounted in the centre of the vehicle.
In France, 70 percent of car journeys are made at the weekend over a distance of less than 30 km while 95 percent are less than 80 km.
Peugeot iOn
The iOn is amongst the first of a new generation of 100 percent electric vehicles being produced by major manufacturers. It has an all-electric drive train, four doors, four seats and a range of up to 93 miles. The iOn is equipped with the latest-generation 330-volt lithium-ion battery system. It can be charged quickly and easily at home using a normal electricity socket, or at a dedicated fast charging station. It takes around seven hours to fully recharge from a normal 240v mains power supply. If you're in a rush, a quick 30 minute charge is enough to give you 80 percent capacity thanks to the fast charging system. A full recharge can cost from as little as £1 in the UK.
Chevrolet Volt
General Motors (GM) wants to be the plug-in leader with the Chevrolet Volt, a hybrid with 40 miles of electric range and 500 miles per gasoline fill-up range. Chevrolet will deliver over 10,000 in 2011. The GM has a complete voltec propulsion system roadmap that envisions added offerings of pure battery-electric, E85 and diesel. With a small gasoline engine, Chevy Volt can go for another 300 miles. The car has two 7-inch diagonal LCD touch screens that display speed and battery power, bluetooth wireless technology that can stream music in a phone to a stereo, rear camera and park assist package, with pedestrian-friendly alert. The second plug-in offering from GM is likely to be a Chevrolet Crossover SUV.
Opel Ampera
The Ampera, which was revealed recently at the Geneva Motor Show, has five doors and four seats and is designed to offer all the benefits of an electric vehicle, while eliminating worries about self-generation solely on battery power. So far, according to Opel officials, about 1,000 people have reserved an Ampera in Europe, half of whom are corporate customers. The extremely quiet electric motor, of 111 kW and 150 HP, generates instantly a torque of 370 Nm. This allows the Ampera to accelerate from 0 to 100 km/h in about nine seconds and reach a top speed of 161 km/h. The battery can be recharged in about four hours at a voltage of 230 V by connecting the integrated loading system to a standard household electrical outlet.
Mitsubishi I-MiEV
Mitsubishi is currently the electric car market leader in Japan with the iMiEV. It is a compact car with zero emissions. With four seats and a length of only 3.475 meters, it comes with four doors and a trunk of 227 liters. Maximum power from the electric motor is 49 kW and 66 HP and maximum torque is 180 Nm. The maximum speed the i-MiEV can reach is 130 km/h, with the lithium-ion batteries providing autonomy of up to 150 kilometers. A full charge takes six hours.
Currently, the i-MiEV electric car is undergoing safety testing. In the first crash tests carried out by Euro NCAP it got four stars under the new protocol.