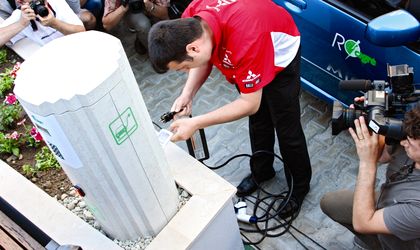 The first charging station for electric cars was opened close to Unirii Square in Bucharest, on the grounds of the headquarters of Transelectrica, the Romanian national power grid company. The project required an investment of about EUR 36,000 and was developed by the Romanian National CIGRE Committee, a professional association affiliated to the International Council on Large Electric Systems (CIGRE) in partnership with Mitsubishi Motors Romania.
The station is a pilot project with no commercial value, but the authorities are looking at the available options to open such stations in the near future in various locations such as shopping malls and supermarkets, said Laszlo Borbely, minister of the environment.
The station is equipped with two level-one charging points where charging is done single-phased at 230 volts with a 16 A power intensity. Access to power sockets is done through a personalized card, and payment can be made by subscription, card, end-of-the month bill or pre-pay card. The cost of fully charging an electric car is between RON 3 and 6.
At the launch, the Romanian National CIGRE Committee received the keys to a Mitsubishi i-Miev model, becoming the first local owner of an electric car.
Daniel Antor, executive director of M Car Trading, the Mitsubishi Motors dealer for Romania, part of Tiriac Holdings, told BR that at this point it is hard to estimate how many i-Miev models will be sold locally this year. "Our initial target was five units but demand surpasses this target. There is a lot of interest in this car but until now it has not been clear whether companies as well as individuals can also benefit from the government's support scheme," said Antor. Companies are mostly interested in acquiring the model, according to Antor, who said that recently the company got an order for five such cars from a local courier company.
The cost of a i-Miev Mitsubishi is EUR 36,640. Using the on-board charger, the vehicle can be fully charged with a 100V or 200V power source available in any home in about six hours. Using quick-chargers the charging duration decreases to about 20 minutes. The model has a range of 160 km.
Present at the event, Borbely said the government was taking measures to encourage the acquisition of hybrid and electric cars. Through the Rabla national program for replacing old cars, those interested in buying a new car can receive six vouchers for their old vehicles compared to three vouchers for the acquisition of a normal model. Drivers interested in buying a green vehicle outside the Rabla program can also benefit from financial incentives. The government will subsidize up to 10 percent of the price of a hybrid car, to a maximum of EUR 1,800, and 20 percent of the price of an electric car up to EUR 3,800.
Renault Romania recently announced three partnerships to work on developing infrastructure for electric cars. The first three agreements were signed between Renault and Siemens, Schneider Electric and Electrica. 
Simona Bazavan