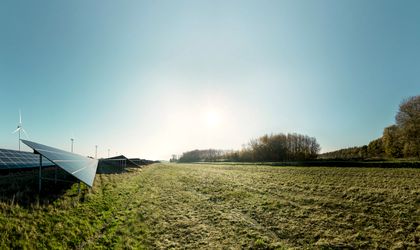 European Energy is pursuing its expansion of activities in Romania, having a development a pipeline of 935MW renewable energy with 810MW in solar and 125MW wind. The first solar park project of 20MW is ready to build and the construction is scheduled to start within 2023.
The company has also received grid connection approval for another 125MW project which is well under progress.
"The new European Energy's office in Bucharest will support our ambition to develop, construct and operate a portfolio of large-scale renewable energy projects. We see the very firm decision of Romania to contribute to the reduction of CO2 emissions in Europe, by developing more investment opportunities for the green energy production in Romania", says stated Ioannis Kalapodas, Head of Office European Energy Romania.
The demand for green energy is growing not least because of its cost efficiency. Renewable energy will not only change the consumption, but also transform the heavy transport and the building heating sector in the coming years.
European Energy has 10 local projects in Romania under development: nine in photovoltaics energy and one in wind. The plan is for the company to use the renewable energy to fuel Power-to-X technologies such as green hydrogen and e-methanol
In the following years, European Energy aims to become one of the significant market players in Romania on renewable energy and to play significant role of the local offshore wind and Power-to-X market. European Energy has already taken steps into the world of Power-to-X technology, starting to develop Power-to-X projects in Denmark, using electricity from solar and wind power plants, as the CO2 free source of electricity.
"Renewable energy is getting to the stage where it can be used for more and more purposes in the coming decade. We believe we are one of the frontrunners on the Power-to-X market not only in Romania, but in the world", added the Ioannis Kalapodas.
European Energy believes that Romania will meet the EU target of growing share of renewables in final energy consumption by 2030, furthermore these targets are under the revision and will be increased, following the EU pressure and the current plans on energy sources diversification.
"Today, the installed energy capacity of solar and wind in Romania is not that high compared to other European countries. We plan to change that by constructing more electricity generating capacities using renewable energy in Romania within our development program. There are a few improvements that would help us in this task, as the administrative processes for project development and the grid connections are still quite long and complicated. Also, the offshore wind, the agri-photovoltaics and Power-to-X areas are still lacking legislative framework", concluded Ioannis Kalapodas.
Romania is seen as a fast-growing market for wind energy in the Southeast European region and could add more than two GW of wind farms by 2030. Currently, the country has about three GW of wind power and almost 1.5 GW solar power as of by the end of 2021, according to the International Renewable Energy Agency (IRENA). And following the Integrated National Energy and Climate Plan by 2030, reaching the RES goals, in Romania more than three and a half GW of new solar capacities could be constructed. Maybe more ambitious goals will be established in the new Energy Strategy of Romania, which is currently under the development, and will be presented in the beginning of 2023.
"We are now entering an era in which green electricity is key to unlocking CO2 emission challenges in the heavy transportation, chemical industry, and heating sectors. In this new era, European Energy has green solutions that ensure we truly can reach the global goal of a carbon-free world, as we have already taken pivotal steps into the world of Power-to-X and green heating. This will be a huge step for our planet", said Knud Erik Andersen, Chief Executive Officer European Energy.
European Energy signed an agreement with largest in the world shipping company A.P. Moller Maersk, in August 2021, in order to deliver 10,000 tonnes of carbon neutral e-methanol for Maersk's first vessel, with the ability to operate on green e-methanol. Since March 2022, European Energy has become a strategic partner and one of its key suppliers of e-methanol, in order to ensure that Maersk's shipping fleet undergoes a green transition away from traditional bunker fuel. European Energy is set to deliver 200.000-300.000 tons of e-methanol to Maersk annually by 2025.
Another step towards green fuels production of European Energy was the recent acquisition of Ammongas, which ensured the access to strong competencies in CO2 capture and processing. The acquisition also enables clear synergies with European Energy's rapidly growing green fuel business. In addition, it will place European Energy in a strong position in biogenic CO2, which is an important building block to producing e-fuels through Power-to-X. At the same time European Energy will be a frontrunner in carbon capture.