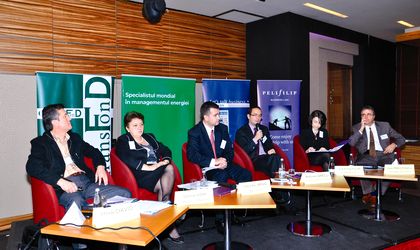 Although the authorities expect the setting up of the two national energy companies, Electra and Hidroenergetica, to be completed by the end of the year, energy specialists and representatives of private companies emphasized the negative effects that a reorganization of the energy sector would have on the local market during the Energy – Focus on Power event, organized by Business Review last week.
Hidroelectrica representatives attending the BR event underlined that the two major issues facing the two national energy companies are the integration of the not profitable Termoelectrica structure and obtaining the financing for such a project. "I believe that we will find financing for this project as Moody's is currently evaluating Hidroelectrica," said Dragos Zachia, exploitation manager at Hidroelectrica, at the event.
But Doina Visa, senior operations officer at World Bank (WB), countered, "The state will not easily find financing for the two energy champions project." According to a World Bank study carried out in 2005 and repeated in 2007, from 2017 there will be an energy deficit, if measures are not taken in the generation sector all around the region.
The WB official also pointed out that foreign investments in Romania have decreased significantly, not necessarily entirely because of the economic and financial crisis, but because of the business environment's instability. "Without solid private investment, the entire region will have problems in ensuring its economic development, not only Romania," cautioned Visa. She added that the WB has been asked by the Romanian authorities to establish a long-term energy strategy, technical assistance for which will start at the end of November. Specialists warned the audience of the negative effects that the formation of the two energy companies will have on competitiveness in the local energy sector. And Dan Preotescu, network planning division director at Transelectrica, spoke about the companies' issues in trying to keep up with the private investment in this sector, which he said could reach EUR 10 billion. "We have interconnecting projects with Bulgaria, Hungary and Serbia. Compared with the first half of the year when the energy demand from these countries was very low, things currently seem to be a little bit better. We're having serious problems with obtaining financing, because our plans aren't just to expand the network but also to upgrade it," said Preotescu. The Business Review event, which gathered around 80 company officials, was organized in partnership with Schneider Electric, PeliFilip
and TransFonD. For more information about future BR events, please visit www.business-review.ro/events/.