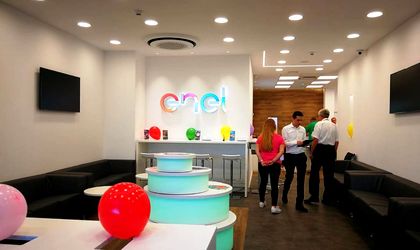 Enel Energie Muntenia is changing the way it is interacting with customers and it is upgrading its stores. One of the first stores where it has completed the upgrade is in the Berceni neighborhood in Bucharest.
The store is located at 127 Soseaua Giurgiului and addresses individual and corporate customers who will benefit from a dedicated sales point that will provide them with consultancy services regarding personalized energy offers on the competitive market, both for electricity and natural gas.
From Monday to Friday, Enel's specialists will offer consultancy regarding the company's energy offers, will present Enel products and services, as well as provide asistance regarding the contracting process and the customized offers.
In addition, individual and corporate customers can benefit from the value-added services provided by Enel with the possibility to choose one of the Enel Assistance packages, respectively Enel Comfort, consisting of: repair and interventions in indoor electrical installations, locksmith repairs, heating and water installation repairs, technical inspection of the gas installation, emergency interventions at the gas installation and thermal power plant, verification of the gas boiler. The store also provides its customers with insurance services, air conditioning equipment packages or central heating.
Enel is a multinational power company and a leading integrated player in the global power, gas and renewables markets. It is Europe's largest utility in terms of market capitalization and figures among Europe's leading power companies in terms of installed capacity and reported EBITDA. The Group is present in over 30 countries worldwide, producing energy with around 88 GW of managed capacity. Enel distributes electricity and gas through a network of over 2 million kilometers, and with around 72 million business and household customers globally, the Group has the largest customer base among European competitors. Enel's renewables arm Enel Green Power already manages around 42 GW of wind, solar, geothermal and hydropower plants in Europe, the Americas, Africa, Asia and Australia.
Active on the Romanian market since 2005, Enel is a leading private investor in energy, with operations in power distribution and supply as well as renewable energy production. The company has 3,100 employees and provides services to 2.8 million customers in three key areas of the country: Muntenia Sud (including Bucharest), Banat and Dobrogea, accounting for one third of Romania's electricity distribution market. Enel is developing an investment program aimed at securing a proper service for end users, improving the quality and security of the network while also complying with Enel's environmental standards. Enel Energie and Enel Energie Muntenia are leading suppliers of energy in the country, and their offer includes electricity and natural gas, as well as value-added services (assistance, lighting and others).