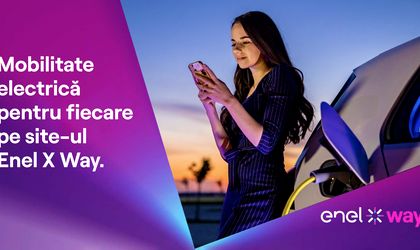 Enel X Way Romania, part of Enel X Way, a company of the Enel Group dedicated to electric mobility, has launched https://enelxway.com/ro/ro website that integrates all the mobility solutions offered by the company for individuals, companies and institutions.
The web platform also provides data about the facilities of its mobile application with the same name, as well as an interactive map that displays the real-time availability of charging stations in the Enel X Way network in Romania and in the countries where the company is present.
The interactive map of the Enel X Way charging points can be accessed either on the website, here, or from the Enel X Way mobile app available in App Store and Google Play. Users can see, in real time, whether a charging station is available, occupied or under maintenance, as well as whether it is a fast or ultra-fast one. Information about the type of charging cable, power, accessibility and distance to the charging station is also displayed. For customization, electric vehicle drivers will be able to associate one or more models of cars and, based on the information entered, they will receive real-time data on the duration and need for recharge or the remaining time until full charging.
"We continue to navigate at speed towards the expansion of our national network, which is currently composed of 350 charging points, with the aim of improving access to charging infrastructure for as many of those who adopt electric mobility as possible. The new Enel X Way platform improves the experience  of the electric car drivers who already supply from Enel X Way Romania stations, but also provides practical information for any person, company or institution that is considering switching to an alternative, sustainable and clean transport system", said Andrei Mihalciu, Manager Enel X Way România.
Enel X Way Romania covers charging needs for electric mobility at home, in transit or in the office, offering charging stations, installation services and software applications through which customers can monitor and control their own charging devices. Waybox private charging stations, with charging powers of 7.4 kW and 22 kW respectively, offer functions such as scheduling the charging session via the mobile app, remotely, real-time information about the charging status, monitoring of the consumption.
The portfolio of solutions for public spaces includes Waypump and Waypole. Waypump has an available power of maximum 60 kW, allows charging up to 80% of the battery level in about 25 minutes, depending on the model and specifications of the car. Waypole units have an available power output of 2 x 22 kW AC, each allowing up to 40% of the battery level to be charged in 30 minutes, depending on the model and specifications of the car. Enel X Way Romania also has in its portfolio ultra-fast charging stations, with a maximum power of 300 kW and which allow charging up to 80% of the battery level in about 15 minutes.
For companies and institutions, Enel X Way offers the Net Manager solution, a digital platform for managing the fleet of electric cars. Turnkey solutions for institutions include the supply, installation and management of charging infrastructure and users, maintenance services, a dedicated call center and the possibility to access charging stations using the Enel X Way application.
Users can recharge their vehicles at Enel X Way Romania charging points using the Enel X Way mobile app about which more details are available here. The app can be downloaded from Google Play and App Store. From 2020 until now, the app has been downloaded in Romania 21,000 times and is used recurrently by approximately 16,000 users.
Enel X Way Romania also provides call-center services, available 24/7, at number 0800.801.158, for the assistance of drivers who charge their vehicles at its charging points. They can also request information directly from the Enel X Way app, from the "Report a problem" section, or write to enelxway.romania.support@enel.com.
The company installs in Romania charging infrastructure in shopping centers, supermarkets, restaurants and hotels that want to attract users of electric cars, as well as in the public spaces provided by municipalities interested in improving air quality by encouraging electric mobility. Currently, Enel X Way has concluded a series of partnerships with private companies and public administrations that make available the spaces where the charging stations are installed.