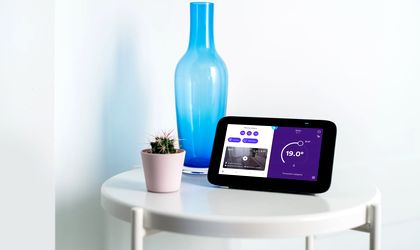 Enel introduces Homix, a smart home solution that helps families save energy and simplifies their life while respecting the environment, to the Romanian market.
Homix is a single smart home solution that allows for easy management, even remotely, of heating, security, lighting and all other devices of the smart home ecosystem. Homix starts with the features of a smart thermostat, Homix Home, which is the command centre that connects to all Homix devices to make the home more comfortable, efficient and safe, and becomes a complete ecosystem for the home, a true smart home capable of learning habits to simplify the daily life of families.
"Enel Romania brings a complete smart home system on the Romania market, that allows customers to maximise the comfort of their home and save energy and money, as part of our goal to offer products and services that can improve users' lives and protect the environment through simple solutions that are accessible to all," said Gabriel Garai, Manager Business-to-Consumer, Enel Energie Muntenia.
Using Homix is very easy inside the home, using the practical touch screen installed on the wall, but also outside, thanks to the dedicated app.
Homix smart devices launched on the Romanian market include the Homix Home smart thermostat, Homix Danfoss Ally radiator thermostat, Homix multi sensor, Homix smart bulb (multi colour) E27 and Homix smart socket. Other products will be available soon, including Homix window / door sensor , Homix air conditioning sensor and Homix smart video camera.
Homix products are available to be ordered either online – https://www.enel.ro/content/enel-ro/enel-energie/ro/megamenu/mai-mult-pentru-tine/homix-home.html -, or in Enel stores across the country, while the price of the Homix Home smart thermostat reaches 720 lei, with payment in instalments also available. Romania is the third country to see Homix launched, after the solution was introduced in Italy and Spain at the end of 2019.