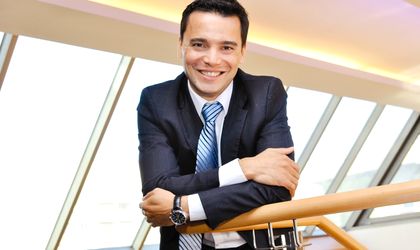 For Saulo Spaolanse, president of Schneider Electric Romania, the big challenge is delivering energy-efficient solutions for all sectors of the Romanian economy. He says that such investments will keep operational costs lower despite rising energy prices. Both the real estate sector and the transportation industry can benefit, he adds.
Ovidiu Posirca
Is Romania a player with potential in the area of energy efficiency, from a financial point of view?
I'm sure it is, because energy costs in Romania have increased significantly. For instance, residential energy costs in Romania have risen 70 percent between 2004 and 2011. If you look at big industrial users, with consumption above 1 Gigawatt, energy costs rose 30 percent in the same period and the forecast for 2012 is that they will increase 10 percent and another 30 percent in the next five years. This means that energy efficiency is becoming an ever better deal. For instance, the payback time for an investment in energy efficiency has fallen 30 percent in the last five years, due to the evolution of energy prices. In Romania, we have office building applications; with our energy-efficient solutions, we can reduce energy consumption by 30 percent. We have provided solutions for buildings such as Citygate, Sunplaza and Lakeview.

Are real estate developers interested in green solutions for new projects?
Some of them are. We are increasingly seeing developers looking for green solutions. Energy efficiency is good for the image of the developer – you can use it as a PR initiative, or it can be easier to attract more tenants – but it also makes good business sense. It means that the operational costs of a green building are about 11 percent lower than for a traditional building. A green building is 6.4 percent more valuable than a traditional one. And the rent is also 4 percent higher than for the traditional solution. This combination of low operational costs, the high value of the building and higher occupancy rate is a strong argument for developers to look to green solutions.
What progress has there been on the project for the implementation of electric vehicle infrastructure in Romania?
We are now leading this initiative, and we are working with Renault on a proposal that will be submitted to the Romanian government in the coming days. Clearly, we don't see electric vehicles on the streets yet. But given the need for environmental initiatives, I'm sure that in the coming years electric vehicles will be part of our daily lives. We provide the infrastructure for charging stations, because people use large quantities of energy when recharging electrical vehicles, higher than they are used to using. To charge an electrical vehicle requires the same energy necessary as for a house, fully work-loaded, so the charging process must be very safe. Therefore, a lot of investment is needed in the infrastructure to make it feasible, especially in big cities where we believe electrical vehicles will be most used.
How many electrical vehicles do you project will be present in Romania in the next ten to fifteen years?
We have today about five million cars registered in Romania, so depending on the source, industry experts estimate that within the next 20 years, between 5 percent – on the conservative side – and 25 percent – on the optimistic side – of new cars will be electric. We can see that, if we add to this existing base another five million cars, electric vehicles will make up between 5 and 25 percent.
During recessionary times, are companies looking at cutting energy costs?
We have been contacted more and more lately to provide our energy management competence to a wide range of customers, meaning big residential compounds, office buildings, retail, banking and industry, because in a crisis period you need to be more efficient with your operating expenses. In the past, when our customers considered investments in energy efficiency, this usually applied only to the construction and investment phase. We need to have a holistic vision of the investment. When you look first at a building, the life cycle is at least 30 years, with 25 percent of the capital investment happening in the first three years, while the rest of the investment, i.e. the remaining 75 percent, happens in the rest of the life cycle. So our customers increasingly understand the need to look at investments in terms not only of capex (capital), but also opex (operational costs).
Is the national grid operator Transelectrica interested in smart grid technologies?
It's a common view that investors, energy players and suppliers, are waiting for the vision to become reality, which is a challenge. So, we need some interesting proposals, but we also need some regulations and clarifications. We need to make our contribution as energy efficiency providers. We help the investor to develop the project, and the investor expects predictability and clear regulations. This is where I believe that the Romanian government can get more involved. This is considered common sense among the energy market stakeholders.
What renewable energy solutions does Schneider offer?
Schneider is specialized in the management of energy, with operations in over 100 countries. We offer integral solutions for different market segments, occupying leading positions in the areas of energy and infrastructure, industrial processes and data and network centers. The company also has a prominent presence in the domain of applications for the residential segment.
We manage, in a proper way, the energy consumption scheme. So we provide solutions, a combination of software and hardware along with our expertise, to ensure the visibility of energy consumption for end-users and their consumers.
What is the financial development of Schneider this year, in Romania?
In 2011 we are above target; we established growth. We are investing to increase our market share. In the first semester Romanian exports were strong, and the agricultural performance was better than expected, so we can see that in our performance too. I emphasize that we always like to look at the long term. We have been established in Romania for 15 years, so Schneider has a serious commitment to investing in the Romanian economy. We are not here in an opportunistic way. We have our headquarters in a green building. We have local project engineering, project execution, local engineering residents, and this year we hired 40 people to establish our new regional customer care center, for one of our IT business units. Romania, as a country, is perceived by Schneider as a place to invest. We are here to support Romania in catching up with the EU in infrastructure standards.     

ovidiu.posirca@business-review.ro
CV Saulo Spaolanse
January 2011- country president, Schneider Electric Romania
Aug 2008-Jan 2011 ISC & residential business director, Schneider Electric
Oct 2007-Jul 2007 business development manager, M&A, Schneider Electric
Mar 2003- Oct 2007 national sales manager, Schneider Electric
Jan 1997- Feb 2003 regional sales manager, Sao Paulo at Roca
1992-1996 BA in Economics, Universidade Federal do Parana