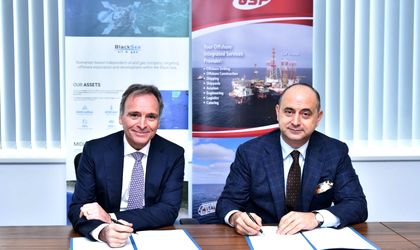 Black Sea Oil & Gas together with its co-venture partners, Petro Ventures Resources and Gas Plus International announce that it has awarded jointly the Engineering, Procurement, Construction, Installation & Commissioning contract for all offshore and onshore facilities and the Development Drilling Contract to GSP Offshore, for the Midia Gas Development Project offshore Romania.
The execution of the contract, which is subject to Final Investment Decision, covers the procurement, construction, installation and commissioning of the complete subsea gas production system over the Doina field. Also, the construction, installation and commissioning of new unmanned production platform located over Ana field which will be built at GSP fabrication yard in Constanta, the subsea pipeline system that will link production platform to the shore, the onshore pipeline and the new gas treatment plant that will be built in Vadu village. A joined contract has been concluded for the development drilling of the five production wells (1 subsea well at Doina field and 4 platform wells at Ana field) for which GSP will deploy GSP Uranus jack-up rig.
Building the entire project infrastructure is estimated to take 2 years. 70 percent of the costs in relation to these contracting activities, which makes up the majority of the totaled installed project cost of USD 400 million.
"In line with our objective to bring this project to FID we have recently announced the signing of our transportation agreement with Transgaz and a gas sales agreement with ENGIE. We are now very pleased to announce that we have concluded this EPCIC contract and Development Drilling Contract with the largest Romanian offshore contractor for our pioneering MGD project that could provide 10 percent of Romania's gas needs, utilize the services of local contractors and subcontractors, deliver gas into the Romania market and deliver significant benefits to our local community as well as to the country," said Mark Beacom, CEO of BSOG.
Mark Beacom also said that "our ability to take FID, once all the remaining milestones have been reached, is subject to the vote of the Partners and Shareholders and critical to that vote will be how the new Offshore Law, particularly in relation to these new fiscal provisions, impacts the decision to proceed with the investment in the project."
"We are proud to have been selected for this important project for Romania. GSP entered the offshore construction business in 2009 and has gained valuable experience in similar projects in other countries. Our local and global expertise in both drilling and offshore construction, together with our assets and capabilities in Romania enables us to successfully deliver the MGD project," said Gabriel Comanescu CEO of GSP.
BSOG, owned by Carlyle International Energy Partners and the European Bank for Reconstruction and Development, is a Romanian based independent oil and gas company, targeting exploration and development of conventional oil & gas resources. The company's current portfolio is made up of XV Midia Shallow Block and XIII Pelican Block concession in the Romanian Black Sea where it is the operator and holds a 65 percent interest.
Gas Plus is the fourth largest producer of natural gas in Italy active in the main sectors of natural gas industry, particularly in exploration, production, purchase, distribution and sale to retail customers. At 31 December 2017, the Group had 45 exploitation concessions located throughout Italy, a total of approximately 1,600 kilometers of distribution network in 39 municipalities, serving a total of more than 72,000 end users, with a staff of 181 employees. Gas Plus holds 15 percent interest in the XV Midia Shallow Block and XIII Pelican Block concession in the Romanian Black Sea.
Petro Ventures, a private investment group, holds 20 percent interest in the XV Midia Shallow Block and XIII Pelican Block concession in the Romanian Black Sea.
GSP performs offshore integrated services the for oil & gas industry. GSP operates an extensive and diversified fleet including eight mobile offshore drilling rigs: GSP Atlas, GSP Fortuna, GSP Jupiter, GSP Magellan, GSP Orizont, GSP Prometeu, GSP Saturn and GSP Uranus. It also operates twelve multifunctional offshore support vessels, one MEDEVAC and three construction vessels: a shallow water pipelay and heavy lifting barge, a semi-submersible barge, a pipelay vessel and two crane barges, as well as several ROVs and one Saturation Diving System.