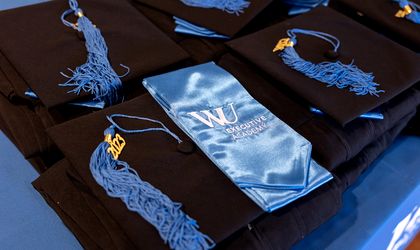 WU Executive Academy offers scholarships worth 200,000 euros for managers and entrepreneurs who wish to pursue an executive education program. The scholarships are available for both the Professional MBA program in Vienna and the Executive MBA program that WU has been organizing in Bucharest for over 15 years. Part of the Vienna University of Economics and Business (WU) – the largest business university in Europe, WU Executive Academy also offers its alumni access to a career center, online activities, and networking events each year.
The Executive MBA Bucharest is one of the most esteemed executive education programs in the country and holds triple international accreditation – EQUIS, AMBA, and AACSB. Internationally, the WU Executive Academy's EMBA program has once again been ranked in the top 40 EMBA programs, surpassing similar prestigious programs, and is constantly in the top 3 EMBA programs in Romania. It ranks 8th globally and 2nd in the EU in the "Career Progress" category, 10th globally in the "International Student Experience" category, and 11th globally in the "Average Work Experience of Students" category.
The program's success is attributed to the reputation of WU professors, as well as external professors from renowned universities such as the Carlson School of Management (USA) and IESE Business School (Spain). The three international modules held in Austria and the USA provide students with the opportunity to interact with managers from diverse companies undergoing transitions or globalization phases. Moreover, the course structure is focused over 80% on practical aspects, through current international case studies and teaching techniques that encourage interaction between students and alumni.
"The economic and geopolitical crisis has generated increased interest from managers and entrepreneurs to enroll in MBA/EMBA courses, and our program, Executive MBA Bucharest, has remained among their top choices. They have been motivated by the new challenges to enhance their business knowledge and skills in order to effectively manage complex and unforeseen situations encountered in their jobs. Through the scholarships we offer, we aim to support as many talented professionals as possible in accessing top executive education provided by our internationally renowned professors," said Prof. Phillip C. Nell, Academic Director, Executive MBA Bucharest.
Last year, WU EMBA Bucharest recorded the highest number of participants – 39 managers and entrepreneurs enrolled. For the first time, the number of applications exceeded the available seats, setting a historic record for the program's activity.
EMBA students come from various fields, with IT, the financial sector, and commerce ranking at the top, followed by FMCG, medical and pharmaceutical industries, manufacturing, energy, services sector, transportation, agriculture, construction/engineering, education, and law. The average age of participants is 39, with an average professional experience of 15 years and managerial experience of 8 years. The male/female ratio within a class is 65% – 35%.
The program will commence in November and is aimed at managers with a minimum of five years of experience. It includes 14 modules conducted over 16 months on a part-time basis, allowing participants to continue their professional activities during their studies. The Executive MBA Bucharest alumni community includes over 450 graduates.