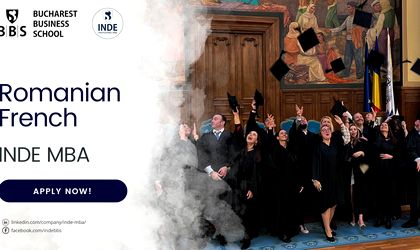 In today's rapidly changing economic landscape, lifelong learning has transformed from a mere personal development aspiration into an essential requirement. Companies now seek professionals and leaders who possess the agility to swiftly acquire new knowledge and adjust to diverse work methodologies. Skills acquired just a couple of years ago are no longer adequate, and past experiences may not hold relevance in a fresh organizational setting. Additionally, with the advent of remote work and accelerating digitization, interpersonal relationships have gained an even greater significance, altering the dynamics of our interactions.
In this rapidly evolving organizational landscape, professionals seeking to take a significant stride forward in their careers and reassess their managerial skills are turning to MBA programs as a viable solution. Among the reputable institutions offering such opportunities is Bucharest Business School, affiliated with the Bucharest Academy of Economic Studies. They provide an exclusive Romanian-French INDE MBA academic program, conducted in English and developed in collaboration with the Conservatoire National des Arts et Métiers (CNAM Paris). With a track record of excellence, this dynamic program caters to the evolving demands of the business environment and boasts a vibrant community of over 1600 accomplished graduates since its inception in 1991.
Recognizing the pressing need for professionals to adapt to the ever-changing demands of the corporate world, Bucharest Business School's INDE MBA program equips students with a comprehensive set of skills and knowledge. By enrolling in this program, individuals embark on a transformative journey of professional growth and development, underpinned by a curriculum that remains at the forefront of industry trends.
The collaborative efforts between Bucharest Business School and CNAM Paris ensure that the INDE MBA program is thoughtfully designed and continuously updated to align with the latest business practices. This academic collaboration brings together the expertise of two prestigious institutions, resulting in a truly enriching educational experience for the students. The program's emphasis on relevance and currency positions participants to navigate the intricate challenges of the modern business landscape with confidence and acumen.
Over the years, the INDE MBA program has fostered a robust community of over 1600 graduates, who have emerged as successful professionals in various industries. This extensive network of alumni not only attests to the program's credibility but also presents valuable networking opportunities for current students. Engaging with accomplished professionals from diverse backgrounds further enriches the learning experience and opens doors to potential collaborations and career advancements.
The INDE MBA program at Bucharest Business School provides an exceptional platform for professionals aspiring to unlock their potential and accelerate their careers. By combining academic rigor with practical relevance, the program equips students with the essential tools to thrive in a rapidly changing business landscape. Through its enduring legacy of excellence, Bucharest Business School continues to shape future business leaders and contribute to the growth and success of the global business community.
The quest for professional growth and adaptability in the ever-changing economic landscape has propelled lifelong learning from a personal aspiration to an absolute necessity. In response to this demand, Bucharest Business School offers a transformative two-year MBA program, presenting a unique opportunity in the Romanian market. Enrolling in this program opens the doors to a multitude of benefits and sets the stage for a fresh start in one's professional or entrepreneurial career.
"The decision to pursue an MBA was made after several years of intense professional activity, when I felt the desire for a next level. If you have a curious nature, eager to understand mechanisms, eager to perform, to accumulate knowledge and skills, the professional activity you have at the age of 30, cannot give you the breadth and diversity of knowledge you can acquire in a 2-year MBA study done thoroughly. In a natural progression, the same knowledge can be assimilated over several years if you are in an executive role with complex responsibilities – sometimes even then, if the shareholding structure or size of the company does not match your aspirations. Afterwards, it is time to apply the skills acquired in an MBA, which can contribute to accelerated personal development, including easy slipping from one job to another, to business progress both by increasing turnover and by techniques to optimise expenses, processes, efficient management of providers because you better understand outsourced jobs, with tangible benefits for the company where you work." Says Adela Jansen, VP CCIFER, Associate Professor ASE.
One of the standout features of the INDE MBA program is the unparalleled training experience provided by Bucharest Business School, in collaboration with the renowned Conservatoire National des Arts et Métiers (CNAM) in Paris. This alliance allows the program to offer a curriculum specifically tailored to the intricacies of the Romanian and European business environment, ensuring graduates are equipped with the necessary skills and knowledge to thrive in their professional pursuits.
The INDE MBA program goes beyond theoretical instruction. It offers a unique opportunity for participants to collaborate with top managers from successful Romanian and international businesses. Through active engagement in program activities, students gain invaluable insights from these industry leaders, fostering a deeper understanding of the practical aspects of business management. This collaboration nurtures the development of essential business skills through engaging debates and comprehensive case studies, enabling participants to grasp the complexities of real-world scenarios.
"It was a balanced mix of a personal development solution, a medium-term opportunity to interact with professionals from different fields and professional backgrounds, and a new way to exercise management and communication skills. During my two years of study I had many surprising opportunities to learn new things about the Romanian business environment, but also about personal limits, which were pushed further and further. For those who want to better understand how a business works, how it can grow or become more profitable, more market-oriented or more attractive to employees and investors, I confidently recommend this program, which can also be a catalyst for their own professional development." Stated Luiza Domnișoru, Head of Communication Revolut Romania.
Furthermore, the program promotes the exchange of entrepreneurial experiences, fostering a rich environment where aspiring entrepreneurs can share ideas, insights, and challenges. By harnessing the power of collective wisdom, participants gain a holistic perspective on entrepreneurship, preparing them to navigate the intricacies of the business world.
Bucharest Business School prides itself on providing an open, dynamic, and relevant learning environment that aligns with the current economic context. With the rapidly evolving business landscape, it is crucial for professionals to stay up-to-date with the latest industry trends and best practices. The INDE MBA program constantly adapts its curriculum to address the demands and challenges of the contemporary business world, ensuring graduates possess the requisite skills to succeed in their chosen fields.
"Choosing this program was quite difficult, but a defining factor was the program's presence on the AMBA accredited list and also its worldwide recognition. It was clear to me from the beginning that the level of this program is very high, which made me want to learn as much as possible and then use it in my work. For me, the Strategy course has been extremely important, as it has enabled me to discover new ways of development and to adopt Agile planning in almost all segments of the business I work in, which has resulted in growth in all the departments where I have managed to integrate it." Declared Gheorghe Marian, Area Sales Manager Lemken.
Embracing the importance of multicultural exposure, the INDE MBA program offers a diverse and inclusive learning experience. Interacting with peers from different cultural backgrounds fosters a global mindset and strengthens cross-cultural communication skills—both essential traits for success in today's interconnected global economy.
To accommodate the diverse needs of aspiring candidates, the INDE MBA program employs a blended learning format. With courses held on weekends, participants benefit from a combination of face-to-face interaction (approximately 65%) and online learning (approximately 35%). This format allows for essential interactions with professors and peers in a physical setting. Classroom lectures, group projects, and social events provide opportunities to forge valuable personal and professional relationships, leading to robust networking and potential long-term collaborations.
Blended learning also facilitates the effective integration of theory and practice. Students can acquire foundational knowledge online and then apply it through practical activities, case studies, and classroom discussions. This pedagogical approach nurtures a deep understanding of how business concepts translate into real-life situations, equipping participants with the practical skills demanded in the ever-evolving business world.
Recognizing the need for even greater flexibility, Bucharest Business School plans to introduce a more versatile program variant—the Romanian-French IMDE MBA FLEX. This program offers 3-4 weekends of in-person classes per semester, with the remaining courses delivered online, allowing candidates with busy schedules or those residing in other cities or countries to pursue an MBA. While this format involves less face-to-face interaction, it offers the benefits of convenience and accessibility. Participants can access learning materials and engage with industry experts through an online platform, providing ample opportunities for knowledge development and virtual collaboration. The INDE MBA FLEX program also presents a unique opportunity for participants to enhance their technological skills.
The Romanian-French INDE MBA program is now accepting applications from May 2 to September 20, 2023. The selection process involves two rounds of interviews scheduled for June and September. It's an excellent opportunity for aspiring professionals to embark on a transformative educational journey.
For the blended learning format of the INDE French-Romanian MBA academic program, the tuition fee is set at 6,000 euros, payable in four installments of 750 euros per installment, with 3,000 euros due each year. This structure ensures affordability and flexibility for participants.
Alternatively, the INDE FLEX French-Romanian MBA academic program offers a more flexible schedule. The tuition fee for this program is 7,000 euros, divided into four installments of 875 euros per installment, with 3,500 euros due each year. The INDE FLEX program caters to individuals with busy schedules or those living in different cities or countries, providing them with the opportunity to pursue an MBA on their own terms.