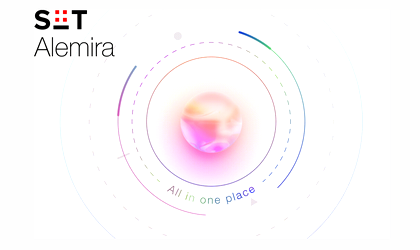 With the current state of technology, there is no reason why education should be confined to the passive learning model. SIT Alemira's new innovative learning solutions, offer an efficient, all-in-one complete digital ecosystem for education, learning, and science.
SIT Alemira consists of an AI-powered authoring platform, adaptive content from renowned scientists, a platform for collaborative research design, and interactive services such as Active Avatar, Video Conferencing for Science & Education, Practicum, and Active Labs, etc. Plus many other integrated applications, which go beyond just digitizing educational content. They transform passive information consumption into high-engagement knowledge discovery and better use of data.
"With SIT Alemira, we are solving the 'online and hybrid problem' for universities, research institutes, boot camps, and companies. Equipped with our software, you can enhance learning, easily produce high-quality content and keep all students engaged", says Laurent Dedenis, CEO of SIT Alimera. "SIT Alemira is constantly working to advance its all-in-one digital platform and accelerate digital transformation. So, this launch is just one step forward, and you can expect much more soon."
Learning journey personalization, enhanced tutoring, interactivity, and learning by doing should be readily available to everyone. We'll help you future-proof your digital infrastructure and create a next-gen learning environment that is active, adaptive, collaborative, and readily suits your needs.
"Alemira is a great example of how industry projects work, to help our students learn in a safe but real way. How to work on a real project over a six months period and create values for the company at the same time.  The team created a user experience prototype for a virtual laboratory, that's now being implemented into the Alemira product line. The students have produced something literally innovative, concrete outcomes from this project that have been influenced by learning science, by the learner and user-driven research that the team engaged in quantitatively. It was a great learning opportunity for our students", says Ken Koedinger, Professor of Human Computer Interaction and Psychology at Carnegie Mellon University.
Driving engagement in online and hybrid learning and solving education, people, and process management issues are some of the key goals of SIT Alemira. As a higher education institution, you can future-proof your services and digital infrastructure and improve institutional efficiency. As a business, you can boost training results and ease the digital transition for your team and clients.
SIT Alemira's unique capabilities include:
Active Labs: SIT Alemira custom creates virtual learning environments to help you achieve the desired learning goals in no time. It gives you the ability to deliver personalized and individualized training tailored to each learner's needs.
Adaptive Learning Journey: Every quiz, problem, or exam's answer is used to adapt the learning curve for individual students. As a result, at every stage during the learning process, SIT Alemira knows how to help each student better based on the learning curve and what topics should be additionally covered.
Visualization and gamification: We use data aggregation, material design domain, visualization tools, and AI models to achieve productive collaboration in a digital environment.
AI-Driven Assessment: Our AI engine records what an instructor has done into a product's UI and automatically generates assessment rules for every single student. It can be enriched by embedding additional non-human assessment rules for multiple solving approaches.
Active Avatar: You can achieve a 100x reduction in authoring costs and speed up content production by using synthesized virtual instructor Active Avatar to explain new concepts.
Real-time engagement monitoring: SIT Alemira monitors audience engagement during live classes, which provides real-time feedback to the teacher and enables offline analysis of the classes.