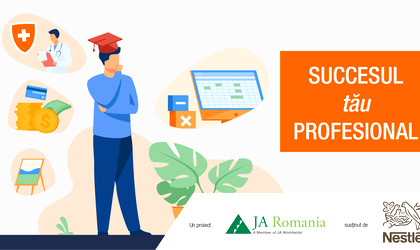 Junior Achievement Romania, in partnership with Nestlé Romania, implements the professional development program "Your professional success". During this project, the two partners organize a series of learning by doing activities and create educational contexts that allow high school students to gain a clearer vision of the future profession and the required steps in order to outline their future career. Between May 5th and 13th, Nestlé volunteers met virtually with over 1,200 students from Bucharest, Giurgiu and Gorj.
The topics covered in the webinars were: "A career in human resources", "How does a career in marketing looks like?", "Always show up and be a team player!", "How does a career in sales look like". Their role was to contribute to the development of students' knowledge and to practice life skills suitable for making informed decisions for the future.
"We are happy to be partners with Junior Achievement Romania in the project "Your professional success", during which we conducted four career guidance webinars on different topics. These interactions dedicated to high school students facilitated the virtual meeting with Nestlé professionals, who managed to fulfill their career aspirations and who, a few years ago, were like them, at the beginning of the road, with many plans and dreams. During the webinar I facilitated, with the theme a career in the field of human resources, I was pleasantly surprised by the interest shown and the curiosity of over 300 young people. Last but not least, I want to thank my colleagues Andra Daroiu, Livia Belu and Ionuț Constantinescu for their openness, enthusiasm and involvement in this project", says Elena-Adriana Boldea, Talent Acquisition, Nestlé Romania.
The participants in the sessions were very active, asking pertinent questions, showing great interest in personal development and having very diverse career aspirations. Together with Nestlé volunteers, there were teachers who are valuable mentors for the younger generation at the beginning of the road.
"The topic of the webinar and the session itself seemed very useful and interesting to me. I appreciated the clarity of the Nestle volunteer's explanations and the very well-structured presentation. If I wanted to identify something I didn't like, I don't think I would find it. I really liked it and I consider that the information received during the webinars is useful and extremely important, regardless of the job or field we will choose in the future", student, ninth grade, Ion Luca Caragiale National College, Bucharest.
—
 "These sessions are extremely useful; a plus is also given by the volunteers and the way they explain certain things to us! I like the fact that we are involved in what is being said through questions or by receiving concrete examples, which is beneficial for us to know exactly what it is about and how we could apply part of the information that is transmitted to us, both at school and outside. I would also like to participate in sessions on how to set up a business", student, 11th grade, Ion Mincu Technical High School, Târgu Jiu.
—
"The presentation was very detailed and organized in a pleasant way. We were introduced to the world of marketing and we analyzed the best ways to advertise a product. I also liked the fact that the presentation was interactive. In short, I would say that it was very useful and interesting", student, 10th grade, Spiru Haret National College, Bucharest. "I found very interesting and useful the meeting with the topic "How does the professional career in the field of sales look like". What I liked most was that I learned new things in terms of sales and I learned how to develop professionally. I also liked that the Kahoot application was used during the session", student, 10th grade, Dimitrie Bolintineanu Technological High School, Giurgiu.
Within the same project "Your professional success", there will be an online event – Innovation Day – an interactive workshop, which brings together teams of young people who are challenged to find innovative solutions to improve situations inspired by everyday reality.