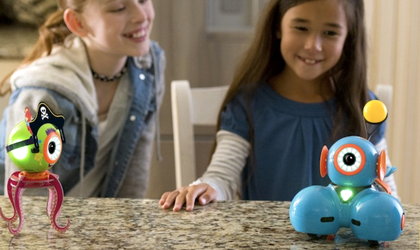 MindHub, the international network of programming schools for children and teenagers, announces the restart of the Summer School in its centers in Romania. With the help of technology, children can discover the world of robotics in a workshop that focuses on art and creativity, programming, and nature exploration.
Throughout the summer (July-August), interested parents can opt for camps organized by MindHub centers in Bucharest (3 centers), Cluj-Napoca, Iasi, Craiova, Baia Mare, Constanța and Arad. The camp, aimed at children between 6 and 11 years old, includes modules on various themes, which can run for one, two, three or four weeks.
MindHub camp costs vary depending on the period, theme or center chosen. They start at 300 lei (one week/participant) and go up to 1,360 lei (4 weeks/participant) for half-day programs, while full-day programs range from 700 lei (one week/participant) to 3,100 lei (4 weeks/participant). Groups are made up of 6-8 children/workshop, depending on the theme and the age of the participants. The full list of centers and options can be found here.
Programming, sport, and nature activities
Summer School includes programs (daily or half-day, by choice) designed to run weekly, Monday to Friday, between 8.30 a.m. to 6.30 p.m. (depending on the module), based on programming courses using games and robots, as well as art and creativity workshops, exploring nature, the planets, and the human body – all tailored to the ages of the students.
At the end of the programming workshops, children can play sports such as football, basketball, volleyball, and tennis. In addition, dance classes will be introduced this year.
Every week, outdoor outings are organized according to that week's theme. In Constanța, for example, the MindHub center organizes workshops by the sea. Starting this year, MindHub's summer school will feature an increased number of coding projects, which will familiarize youngsters with the basics of programming.
"All six editions of the Summer School program so far have proven to be very successful, thanks to the attractive combination of programming and robotics workshops with outdoor activities, giving children the opportunity to socialize and get active in their free time. The proof is that year after year we have an increasing number of parents interested in enrolling their children," said Polly Yankova, founder of the MindHub network. According to her, more than 1100 children attended MindHub summer school camps in Romania in 2021, while this year the number of those enrolled is expected be more than 2000 participants.
Learning through play
Children's fascination with games and robots can turn into a passion with many lifelong benefits. Parents can successfully harness their children's need to create and explore to entice them into programming and robotics courses. Thus, in small groups, through play, children develop technical skills essential for the jobs of the future, where programming and manipulating robots will be in high demand.
It's a very valuable kind of socialization, where children as young as 6-7 learn to collaborate and share what they know. Unlike classes at school, the focus is on the whole session and is completely voluntary. Over time, this training in patience and concentration will help them have an increased ability to focus on more complex tasks, including school.