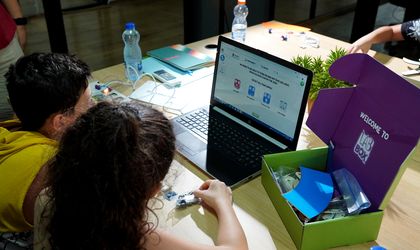 Labbox, a Kosovo company that produces electronic blocks through which children can learn STEM subjects (science, technology, engineering and math), targets 200,000 euros on SeedBlink crowdfunding platform. Labbox financing campaign starts today, September 16th.
The total financing round is € 450,000 and is led by South Central Ventures, which invests 250,000. The rest of € 200,000 is available for the SeedBlink investors. This is the second investment of South Central Ventures in Labbox – the fund investe another 300,000 euros in 2020.
The money will be invested so that Labbox expands in Romanian and Bulgarian Markets, tests demand in other EU countries, reaches a recurring monthly income of 20,000 euros, and finances the creation of new products and grow their production bandwidth by growing the team. The company had already started to test the Romanian and Bulgarian markets to generate leads and plans to launch officially at the beginning of next year. The company collected around 5,000 leads from the Balkan Region (800 from Romania), which will be served with the new funding.
Labbox, a company that combines toys production with education and electronics, was launched in 2019 by Arta Shehu Zaimi (CEO) and Fiona Shehu (COO) – two sisters passionate about technology-  and Glenn Noble, a CTO with 30 years of experience in hardware design and production. The two sisters founded in 2015 jCoders Academy, the largest private coding school in Kosovo, with over 45 Employees and scaled the company also in Albania.
The founders of Labbox have created the largest private coding school in Kosovo
Labbox produces electronic blocks through which children between 8- 15 years old can learn programming, mathematics, engineering, electronics, and mechanics at home based on a monthly subscription. The subscription prices depend on the length of the commitment: a one-month subscription costs 34 euros, a three-month subscription costs 27 euros/month, a six-month subscription is 26euro/month, and a 12-month subscription is 24euros/month.
Each kit is created based on a STEM curriculum that is certified by Cognia, one of the most important accreditation institutions for educational programs worldwide. Kids use Labbox blocks three times more than other similar products and 70% of them manage to achieve the learning objectives in the curriculum, according to the company's tests.
 "We created Labbox to give children the chance to learn electronics and engineering by experimenting, by giving them the confidence to think like an engineer. We also wanted to turn them from technology consumers into technology creators. In fact, one of the biggest problems for parents is the time their children spend on tablets and phones. Often, this is a time used only for play and social media. Through Labbox, children can use technology for education and access a developing community of engineers. And these are two essential things considering that most of the future jobs will involve STEM knowledge", says Arta Shehu Zaimi, CEO and co-founder of Labbox.
Three times more customers till the end of 2021 and European expansion starting 2022
The company currently has 300 customers and plans to reach 1,000 users by the end of 2021.
Labbox's plans for the next three years are to expand in Europe (UK, France, Germany, Spain, Switzerland, Italy, Netherlands), register 30,000 customers, and develop four production lines (12 products) for each age group.
Even if Labbox's focus is the B2C market, around 30 schools and educational spaces use the electronic kits. The company will start a pilot program in schools at the beginning of 2022 in the USA (Alabama).
The company was part of the Techstars accelerator in Berlin this year.
"Educational technology has completely revolutionized STEM and is helping this segment overcome all traditional barriers. Labbox, which was previously backed by Techstars, is changing the way children learn based on a cognitive approach that develops great awareness about technology in a simple way. We were impressed by the drive and commitment of Arta and her team in shaping the industry as they deal with issues of pedagogy and business daily" – said Laurentiu Ghenciu, Chief Business Officer at SeedBlink
The global Education Technology Market was valued at approximately USD 74.64 billion in 2019 and is estimated to reach USD 318.80 billion by 2027, according to MarketStudy Report.