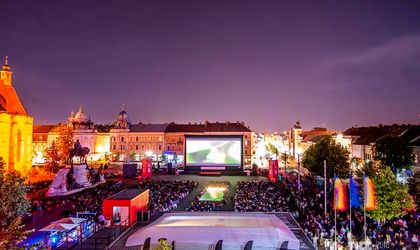 Good news for film lovers: Romanian greatest film festival, the 19th edition of the Transilvania International Film Festival will take place between July 31-August 9. Postponed by restrictive anti-pandemic measures adopted this March, TIFF returns with a summer edition featuring outdoor screenings, adapted programming, and a holiday friendly atmosphere. Both the opening and the closing nights will take place in the Unirii Square in the heart of Cluj-Napoca.
"It will be a privilege to be with our audience who have supported and looked forward to the festival throughout these months of isolation. We are prepared to apply all protection measures adopted by authorities for open-air screenings, and we hope that the measures for screenings in movie theaters will be confirmed shortly," explained TIFF President Tudor Giurgiu.
Outdoor screenings will be organized in clearly delineated spaces, with chairs set apart. Access will be permitted through designated aisles that will allow for triage. Transilvania IFF audiences will get to see films in the Open Air cinemas set up in Unirii Square, at the Iulius Mall, the Archai Sculpture Park in Vlaha, the Banffy Castle in Bonțida, and  in the courtyard of the French Institute.
Screenings in theaters will be planned only after local authorities adopt the necessary measures for cinemas in line with most European guidelines that permit up to 50 percent occupancy rates.
"We started off the year with so many ideas for new programs, but as the size of the festival will have to be reduced this year, we will keep some of those ideas for next year, when hopefully things return to normal. But we can promise an eclectic selection of new titles and archival retrospectives, a traditional thematic section, a Full Moon selection, national focuses, exceptional documentaries, special events and programs, as well as a good dose of unmitigated fun. Even if #staysafe remains the order of the day this year, films that take risks continue to occupy a privileged space in our festival," promised TIFF Artistic Director Mihai Chirilov.
Some of the Transilvania IFF projects will be adapted to the current context: the industry mainstay Transilvania Pitch Stop will have both online and offline components, while Transilvania IFF's film workshop for teenagers Let's Go Digital! will be moved online in its entirety. Details for each program will be announced shortly. Applications for the Alex. Leo Șerban Fellowship are rolled over in line with the new dates for the festival, while applications for the Local Competition continue until June 30th here.
TIFF cards and subscriptions are back on sale. Those who hold one of the three TIFF cards — X-Card, SuperCard și Iron Card — will be able to reserve seats to films or special events, as the card allows, 48 in advance and enjoy access to a number of special screenings and events. Cards and subscriptions can be purchased from tiff.eventbook.ro and, soon, on the official app for TIFF 2020. Those who purchased cards earlier in the year can use them for the new dates with no changes.