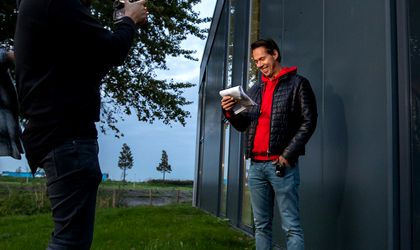 SAGA Festival is finally happening this fall, between September 10-12, after being announced for more than two years now. The festival promises an EDM experience and Business Review went behind the scenes with Allan Hardenberg, the CEO of ALDA, the organizer who is setting up SAGA Festival.
Allan Hardenberg has been an integral part of the dance music industry since 1997. Together with David Lewis, he founded ALDA: a global producer, concept developer, and promoter of electronic
music and DJ concepts. The company organizes events like Armin Only, A State of Trance, Electronic Family, AMF, We Are Connected, New Horizons, and The Flying Dutch. At ADE 2018, ALDA joined forces with Insomniac.
They announced over 50 artists, such as Alan Walker, Clean Bandit (DJ Set), Don Diablo, John Newman, Mike Williams, Morten, Nervo, Regard, Salvatore Ganacci, Sigala, Tiësto, Timmy Trumpet, Topic, Vini Vici, W&W, Carl Cox, Chris Liebing, Deborah de Luca, Denis Sulta, Dubfire, Eli Brown, Enrico Sangiuliano, Fisher, Franky Rizardo, Hot Since 82, Joris Voorn, Joyhauser, Kölsch, Maceo Plex, Mathame, Meduza, Monika Kruse, Reinier Zonneveld (Live), Solardo, Sonny Fodera, Spartaque, Umek and many others.
You are one of the first persons who created a global phenomenon with dance music. What was it like putting together the first festival almost 20 years ago? Where you aware of the trend?
My first show was like 20 years ago when electronic dance music was a niche genre, it wasn't promoted anywhere: not on the radios, not in cabs, not in supermarkets. So, this show was on a boat together with Tiesto, Armin van Buuren and another Dutch DJ. It was a boat for 700-800 people, high ceilings, I was happy I could put on some lights, some lamps, some smoke, and a laser, of course. Back then, I didn't imagine it would become so mainstream and big as EDM is now, because, at this moment, you can hear it everywhere: at the butcher shop, at the supermarket, in the taxi, everywhere you can hear dance music. I am happy that I was there from the very beginning and there were some other moments that were iconic in the music industry: like Avicii doing a collaboration with a country artist – a major hit that took the public by surprise after that David Guetta collaborated with Kelly Rowland and after that with Usher. This changed the music industry and we were there with ALDA, lucky at the right time and the right moment.
Is it in any kind similar to your beginnings to this period of time we are currently living?
No, it's not similar. To me, the pandemic was from the beginning a temporary setback, I only knew we were going back to live music, get back to dance, so the last one and a half year was a good moment to go deeper, to analyse thoroughly your brands, why are you doing these things for your fans, to dig deeper in the customer experience. So, for us, it was a good time to think things over, because it was a temporary setback, I didn't have the feeling I have to start things all over again.
Did COVID-19 change your business vision of organizing festivals?
When something like COVID-19 happens, you start analyzing the past 20 years – what you did good, what you did wrong, the mistakes you made, a lot of time for reflection, so, I think this was the positive part of the last one and a half year. And of course, looking back, I want to improve myself as a person, as a professional and these are the ingredients you put on the table when organizing a festival.
What has the impact of COVID-19 been on the wider events industry?
The impact is enormous, for the suppliers, the technical staff, the freelancers, for everybody working in the crew of a festival, it was bad, everybody was at home, some of them changed their jobs.
And even now with the things opening up, there are some challenges, some struggles with the suppliers: they don't have gear anymore, they don't have people, equipment, it's a hectic and chaotic period, but we're good, we're getting there!
How did Saga Festival get its name?
We were brainstorming with ALDA team in Amsterdam and with our Romanian team and by the end of the day, we had 3 names.
The next day, we went further with it and I started repeating it, writing it, it's a habit I have to write names above my bed to see them every day to sink in, to see if we are on the right track. SAGA sounded really nice, an international name, also good for the local market, so it was immediately a winner.
How do you choose to invest in a festival in Bucharest? Did the local authorities embrace the idea? 
The local authorities embraced the idea because, in Bucharest, there was no such thing as a big EDM festival, ALDA is an international brand with a lot of shows made during these years, with Armin Only in 2006 in Bucharest.
We were thinking about why there is no EDM festival in Bucharest and then we started talking, looking for venues, talking to the authorities to see which is the best place in order to have access to public transportation, crowd control, and things like that. And it seemed that Izvor Park was the best option.
Which is the greatest challenge at this point for organizing the festival?
I think the greatest challenge at the moment is that COVID safety measurements are changing a lot, almost every day. Right now, one of the biggest challenges is that only vaccinated people have access to the festival, also a lot of companies don't have equipment or staff and that is a big challenge to put all the pieces of the puzzle together.
Even if we do events for 20 years now and we have to solve things all the time, it's in our DNA, it's still difficult, but we're gonna make it happen. Without challenges, I think it would be a bit boring. I like challenges, I need challenges to keep me active, motivated to push my limits.
What were some of the challenges curating the lineup?
When we go to a new city, to a new country, there are always existing organizers, promoters, so we are the underdogs, we need to prove ourselves ten times more than the festivals that already take place in the country. It's also a lot of extra negotiation with management to convince them that it's the right gig for them. We had a lot of time for SAGA, because we started 3 years ago, we have a great line-up, but it wasn't done in one day, it was a lot of effort, it was chosen on some specific criteria (artists on the radio, artists preferred by the public in general, in Romania).
Untold announced similar dates in Cluj Napoca. Do you consider it a problem in terms of audiences and lineup?
I was really surprised that UNTOLD picked the same dates as us because we were already promoting it for a few months. Unfortunately, this affects a lot of the people who want to go to both festivals, especially after more than one year and a half without having fun, getting to meet your friends. People want to go out, to have fun on the dancefloor. So, now, the dance music lovers have to choose, so….at the end of the day, it is what it is, we have a good festival, we have a great line-up, we are in the heart of the capital. I hope people will have fun at SAGA Festival in Izvor Park between 10-12th of September with artists like Alan Walker, Don Diablo, Tiesto, Carl Cox, Amelie Lens, Clean Bandit, Sigala, Meduza, and many, many more.