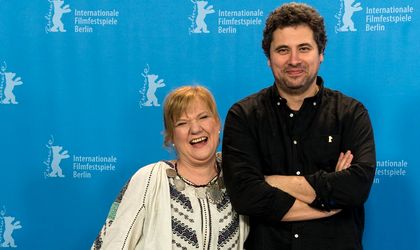 The Golden Bear for best film at the 2021 Berlin International Film Festival went to the Romanian director Radu Jude's Bad Luck Banging Or Loony Porn/ Babardeala cu bucluc sau porno balamuc.
The movie is a social satire and stars Katia Pascariu as a school teacher who finds her career and reputation on the line after a personal sex tape is leaked onto the Internet. The production was  shot in Romania over the summer of 2020 during the pandemic and the executive producer is Romanian Ada Solomon.
"The Golden Bear goes to a film which has that rare and essential quality of a lasting art work. It captures on screen the very content and essence, the mind and body, the values and the raw flesh of our present moment in time. Of this very moment of human existence. It does so by provoking the spirit of our time (i.e., zeitgeist), by slapping it, by challenging it to a duel. And while doing that, it also challenges this present moment in cinema, shaking, with the same camera movement, our social and our cinematic conventions. It is an elaborated film as well as a wild one, clever and childish, geometrical and vibrant, imprecise in the best way. It attacks the spectator, evokes disagreement, but leaves no one with a safety distance," was the jury's argument for this award.
In the official description of the movie, Berlinale states that: "Always up for innovative cinematic experiments, Radu Jude has crafted from this constellation an intelligent, satirical triptych: with its nonchalantly precise camerawork and manic humour found in the stress of everyday life on Bucharest's streets, the first part shows us what contemporary cinema at the documentary-fiction interface can look like. The second part is an offbeat series of laconic, static images intended as an encyclopaedia of the symbols of our time. The film's grand – albeit open-ended – finale is a discussion held at the school in which judgement is passed on our heroine's right to exist."
See below producer Ada Solomon and director Radu Jude's reaction for the prize:
This year's international jury comprised six previous Golden Bear winners: Ildikó Enyedi, Nadav Lapid, Adina Pintilie, Mohammad Rasoulof, Gianfranco Rosi and Jasmila Žbanić, without nominating a president.
It's the second Bear won by Radu Jude, who received in 2015 the best director Silver Bear award for Aferim!. Born in Bucharest, Romania in 1977, he has a degree in film from the city's Media University. He began his career as an assistant director before making his first short, The Tube with the Hat, in 2006. His feature debut, The Happiest Girl in the World, screened in the 2009 Forumand garnered worldwide attention. In 2017, Locarno screened his first documentary, The Dead Nation. His most recent films, Uppercase Print and The Exit of the Trains, both premiered in the 2020 Forum.