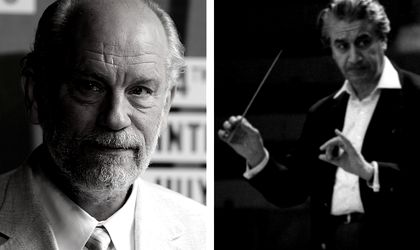 Variety recently announced that John Malkovich ("The New Pope") is set to play legendary classical Romanian conductor Sergiu Celibidache in a new film titled "The Yellow Tie". The movie is going to be an international co-production between Romania's Oblique Media Film and Celi Films in the U.K.
The screenplay is written by the conductor's son, Serge Ioan Celebidachi and James Olivier ("Octav"), while the biopic will explore Celibidache's life as one of the world's most controversial conductors, alternatively considered a genius and a madman by the conventional classical music world. Celebidachi ("Octav") will also direct, as Variety mentions.
"I am thrilled and honored to be given the opportunity to play the conductor Sergiu Celibidache," said Malkovich, quoted by Variety. "A unique and singular talent, he is considered to be one of the great classical music visionaries of the last century. Playing him in his later years will be a challenging and fascinating journey."
Romanian-born Celibidache was thrown out of the family home as a teenager after revealing he planned to pursue a career in classical music. After periods of homelessness, he eventually won a competition to become the youngest ever conductor of the Berlin Philharmonic Orchestra and went on to become one of the most celebrated conductors of the twentieth century. He was famous for refusing to release recordings of his music, which he claimed would not have the same effect outside of a concert hall.
Moreover, the film is set to shoot in Romania in spring/summer 2022, with Malkovich playing Celibidache  in the composer's twilight years.
Sergiu Celibidache's Garden (142 minutes, 2009, directed by Serge Ioan Celibidache) focuses on several master classes held by the conductor in France, and interviews with him at his country estate near Paris (La Neuville-sur-Essonne).
The film portrays Celibidache during the latter part of his life and illustrates his central aesthetic line – that there are many ways to say "no" (teach what is wrong), but only one way to say "yes" (teach what is right) which ultimately musicians must discover within themselves. The more unusual moments of the film occur when a group of Buddhist monks visit Celibidache at his French estate, and contrast the singing styles of identical birds in their monastery and in Celibidache's garden.
Although the film lacks an appropriate dose of editing and will challenge any aficionado's patience at 142 minutes, this was nonetheless my favorite documentary – an intimate and poetic homage to Celibidache directed by the conductor's son.
Letting it evolve
Celibidache: You Don't Do Anything, You Let It Evolve (100 minutes, 1992, directed by Jan Schmidt-Garre) portrays the middle-aged Celibidache and focuses on rehearsals of the Munich Philharmonic, interviews with the conductor and other musicians.
Although a "flat" documentary (coming in at a much lower pitch than the other two), the film provides some fleeting glimpses of the controversial side of this world-renowned conductor, which are often ignored or glossed over by his fans. In one segment taken from local film archives, Celibidache meets adoring fans after his 1990 performance in Bucharest (soon after the fall of Ceausescu). He bluntly accuses the Romanian "intelligentsia" of allowing musical mediocrity among their ranks (alluding to the Romanian conductor Mihai Brediceanu), sharply dismisses their blaming of the Communist regime and states that everyone was responsible for such mediocrity (surprisingly, the fans smile and nod their heads in agreement).
In another segment based on interviews with musicians in Israel, an orchestral colleague of Celibidache's affectionately jokes about the numerous music "scandals" associated with the conductor, and concludes (without mentioning any particular episode) that Celibidache typically got his way by threatening to leave an orchestra. In segments from each documentary, we encounter Celibidache acknowledging (neither apologizing nor denying) that as a conductor he was often described as a megalomaniac, a tyrant and a dictator.
Curiously absent from all three documentaries is perhaps the most documented controversy involving Abbie Conant, a trombone player with the Munich Philharmonic under Celibidache's tenure as music director, and her ultimately successful 12-year legal battle to prove charges of gender discrimination. The story behind this controversy and its revolutionary impact on the classical music world is insightfully captured by author Malcom Gladwell in the concluding chapter, Listening with your Eyes – the Lessons of Blink (his 2005 book about the perils of "thin-slicing" in decision making).
Born to conduct
"Nascut Roman Sa Dirijeze O Lume" (80 minutes, 2012, co-production TVR and Fundatia Celibidache) portrays the younger (but still internationally famous) Celibidache, focusing on his Romanian concerts and interviews from the 1970s and 1990. Unlike the other two documentaries, this one provides actual concert footage and more biographical information, albeit in a distracting and hard-to-read scrolling text at the bottom of the screen.