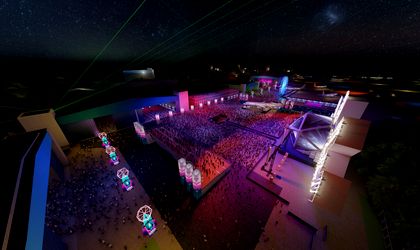 After two years of fine tuning every detail and preparing to give fans the music event of a lifetime, there's only one week remaining until the debut edition of SAGA Festival opens its gates to the public. Fans will witness an audio-visual spectacular like no other with the biggest artists in the world of electronic music and beyond, during the 3-day festival experience in Romania's capital of Bucharest between 10 and 12 September 2021. 
Exploring all options and taking every aspect into careful consideration in today's dynamic festival environment, SAGA Festival had factored in the large amount of tickets currently sold which has led to the decision to change the festival's venue for this year's edition from Izvor Park to Romaero, located near Baneasa International Airport. Making the decision alongside Bucharest City Hall, moving venues was largely influenced by keeping the best interest of the attendees in mind, thus being able to provide not only the best festival experience but the safest. A bigger venue will provide more room for fans to dance the night away in a safe spacious environment which will no doubt bring peace of mind for ticket holders. With international visitors jetting off to Romaero, Bucharest from many corners of the world, SAGA Festival is ready to take off.
"We are thrilled about the new site and still in awe of its roughness, history and potential of creating a breathtaking experience, which combines the best electronic music and the unique feeling of partying on an airport, with the planes as a background." Said the organizers.
With Romaero being the brand-new home for SAGA Festival to begin its unique new journey on September 10-12, just one week left to wait until the gates open for partygoers to make their own special memories in SAGA's home for this year's edition. Delivering an entirely new concept to Romania, Bucharest will play host to mind blowing special effects, forward thinking designs and a lineup spanning the very best in electronic music including Tiësto, Carl Cox, Alan Walker, Masked Wolf, Sickick, Nicky Romero, Oliver Heldens,  Robin Schulz and many more. Alongside a renowned mainstage lineup, underground and local talent will also be on hand to deliver explosive entertainment for dance music fans.
In addition to the previously mentioned international artists, some of the most appreciated and loved Romanian artists complete the SAGA Festival line-up. Antonia, INNA, Deliric, Grasu XXL, Gojira & Planet H, Guess Who, Prny & Lu-K Beats, Spike, Bad and Boujee, Chronic DJs (Grigo & ABS), DJ Chill Will, DJ DOX, DJ Grewu, DJ Sauce (Satra Benz DJ), DJ Sfera, Johnny Damix and Moza Kaliza will take the stage at SAGA 2021.
More info about the daily line-up for the four stages (named Source, Heat, Spark, and Switch) can be found here: https://sagafestival.com/
Don Diablo launches his new album at SAGA Festival on September 10th!
Don Diablo, one of the world's most appreciated and beloved artists, has been working hard over the past year on his next album, which he will release at the SAGA Festival on 10 September, when the audience will hear, exclusively, all of the DJ's new tracks, along with some of his established tracks.
"The last year has been crazy. I managed to finish my album, which will be out on September 10, so the day I have my show in Bucharest will also be the day I release my album. It's going to be really special for me, especially since I'll be celebrating it with you. Take care of each other, stay healthy and I can't wait to see you very soon at SAGA Festival, to celebrate life, again," said Don Diablo.
The largest stage in Romania: Source is 35 meters high and 100 meters wide
The main stage, Source, is 35 metres high and 100 metres wide and has been designed as a real show, with the icosahedron as the central element, which will come to life in just 7 days. The Source will be the source of all the other stages, which are part of a unique concept in the country, to be unveiled next week.
More than 75 trucks of equipment have arrived from the Netherlands and Germany and around 4,000 people are working every day to create an unforgettable festival for all those who will enter the gates of Romaero on 10 September and spend 3 days of excitement. Over 600 tons of scaffolding, 100 km of cables, over 500 speakers and 2500 LED screens are just some of the elements that will put SAGA on the map of the most spectacular festivals in the world.
Romanians will be entertained next week, along with foreigners who will come from over 30 countries for the SAGA Festival. Together they will enjoy the music of some of the world's best and local artists, who will have unique shows and lots of surprises on stages flooded with lights, special effects and fabulous designs. Source, Heat, Spark, Switch and all the other special stages are waiting to come alive with festival-goers.
The incredible SAGA story is ready to begin. Few tickets and passes are still available and can be purchased here.
Those who buy a ticket or subscription to SAGA will also be guaranteed free access to Armin Van Buuren's biggest solo show ever, at the Sound of Bucharest on 25 September in Bucharest's Constitution Square.
In order to gain access to the festival, the public will have to present one of the options below at the entrance:
a digital vaccination certificate
a negative PCR test, not older than 72 hours
a negative antigen test, not older than 48 hours
a certificate of immunisation for those who have contacted the virus in the past 6 months