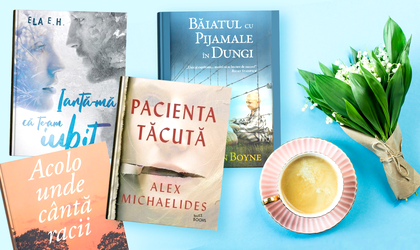 The books that have reviews are among the bestsellers of the summer on Libris.ro, a sign that Romanians read more and more recommended books, especially when it comes to fiction. In the top of readers' appreciations are well-known contemporary foreign authors, but also local inspirational stories, such as the volume 27 steps, signed by Tibi Ușeriu.
The social distancing measures, but also the summer vacation brought a significant increase in book sales in the Fiction category on Libris.ro. Thus, in the first 7 months of the year, 27 percent more books were ordered than in the similar period of 2019. The average order also increased by 15 percent during this period, reaching almost 100 lei.
Most books were ordered from Bucharest, Timisoara, Cluj-Napoca, Iasi and Brasov. The top of bestsellers has a significant proportion of volumes that received appreciations on the site. Thus, Forgive Me for Loving You, The Boy in the Striped Pajamas, The Silent Patient or Where the Crayfish Sings – are some of the titles found both in the top sales and top most reviewed books.
Friendship Day: almost 20 percent of readers choose more than 50 percent of their readings following recommendations from close friends
According to a survey conducted by the online bookstore Libris.ro on the occasion of Friendship Day (July 30), which was answered by 1,000 people, almost 20 percent of readers said they choose more than half of the titles purchased based on the recommendation of their friends.
The importance of the reviews is obvious. The increasing popularity of a title is given both by the reviews on the site, as well as by the personal recommendations from the readers' friends. Thus, we notice that social media positively influences the choices, whether we are talking about public figures who make recommendations, or whether it is people who present a book that has impressed them in their own circle of friends. That is why Libris.ro launched a special collection with 233 titles that received the maximum score from readers' votes. 70% of them are fiction books, while the rest are titles for children, personal development and others, said Laura Țeposu, founder and CEO of Libris.ro.
The most voted title on Libris.ro this year was the volume Silent Patient – Alex Michaelides. In the top of sales during the summer months (May – July) we find the novel Forgive me that I loved you – Ela E.H., a title that also leads the top 10 of the best-selling fiction titles in 2020.
Top 10 most voted books on Libris.ro in 2020:
1. The silent patient – Alex Michaelides
2. The boy in striped pajamas – John Boyne
3. Forgive Me for Loving You – Ela E.H.
4. Where the Crawdads Sing – Delia Owens
5. Verity – Colleen Hoover
6. The Tattooist of Auschwitz: A Novel
7. 27 steps – Tibi Useriu
8. Ugly Love. About the ugly face of love – Colleen Hoover
9. The splendid city of a thousand suns – Khaled Hosseini
10. The book thief – Markus Zusak
Top 10 best-selling books May – July 2020:
1. Forgive Me for Loving You – Ela E.H.
2. The book of new and strange things – Michel Faber
3. The boy in striped pajamas – John Boyne
4. Where the crayfish sing – Delia Owens
5. The Art of Manipulation – Kevin Dutton
6. Children on the Volga – Guzel Iahina
7. The silent patient – Alex Michaelides
8. The Adventures of Tom Sawyer – Mark Twain
9. Better than your parents – Janet G. Woititz
10. Supernatural – Joe Dispenza
Top 10 best-selling books in 2020
1. Forgive Me for Loving You – Ela E.H.
2. The boy in striped pajamas – John Boyne
3. The Art of Manipulation – Kevin Dutton
4. The silent patient – Alex Michaelides
5. 27 steps – Tibi Useriu
6. The Adventures of Tom Sawyer – Mark Twain
7. Body language – Isabelle Duvernois
8. Love in Times of Cholera – Gabriel Garcia Marquez
9. Where the Crawdads Sing – Delia Owens
10. The 5 wounds that prevent us from being ourselves ed.7 – Lise Bourbeau
10 books with 5 star review on Libris.ro:
1. The Boy on the Wooden Box: How the Impossible Became Possible . . . on Schindler's List – Leon Leyson
2. The Unbeliever – Ayaan Hîrsi Ali
3. My Grandmother Asked Me to Tell You She's Sorry- Fredrik Backman
4. Never Say Forever – Jennifer L. Armentrout
5. I Hid My Voice – Parinoush Saniee
6. George and his miraculous medicine – Roald Dahl
7. Please, thank you, I love you! – Ioana Chicet-Macoveiciuc
8. Pettson and Findus' cookbook – Sven Nordqvist
9. The Stranger – Albert Camus
10. Lama Lama and Grandma – Anna Dewdney