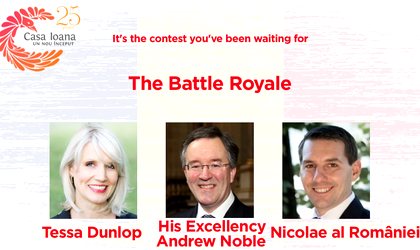 UK Romania Group, a coalition of Romanian diaspora organisations in Britain, is doing something a little special for this year's charity fundraiser – a series of online events culminating in a head-to-head contest testing the British Ambassador  to Romania, His Excellency Andrew Noble, TV presenter Tessa Dunlop, and Nicolae al României on their knowledge of Romanian language, history and culture.
The charity this year is Casa Ioana. Casa Ioana is one of those rare places to offer hope to people at their most vulnerable. It opened as Romania's first night shelter for the homeless and has grown to provide temporary shelter and professional support to women and their children escaping domestic abuse. This is their 25th anniversary year.
Its gift is to offer a safe space, a sanctuary to those escaping domestic abuse. It gives children what might be the first place they find love and belonging. It empowers residents with vital skills, equipping them for a new beginning – free from fear. During its quarter century operation, Casa Ioana has supported 5,394 single women, 6,015 families and 7,601 children.
As Coronavirus brought new challenges for us all, for Casa Ioana it means soaring demand for services at the same time as donations fall away. They now need the same helping hand their refuge offers to others.
The fundraiser will open on Wednesday, December 9, with founder of the charity, Ian Tilling MBE, in conversation with Aura Woodward (former Director of the Prince of Wales Foundation Romania). On Friday, December 11, an eSports tournament hosted will be held. Day four is the telethon.
The main event, Battle Royale, will be a contest in which His Excellency Andrew Noble, Nicolae al României, and Tessa Dunlop will go head-to-head in an online competition, putting their knowledge on Romanian language, history and culture to the test!
The competitors will showcase their Romanian language skill, a their knowledge on the country's culture, history, food and drink – all under the watchful eyes of famed pianist Alexandra Dariescu and actress Mădălina Bellariu Ion.
The event will also include music from Alexandra Dariescu, comedy from Funny How TV, and a skills auction.
UK Romania Group developed from an initiative celebrating the Romanian centennial in 2018. The general purpose of the organization is to highlight the Romanian contribution in Britain and what the community here is doing to help out back home. More broadly it's about demonstrating the strength of the bilateral relationship and the many ways the two countries are connected. Last year, UK Romania Group's Christmas fundraiser was for Hospices of Hope.
For more details about the event – including how to watch and donate in Romania – you can register at https://forms.gle/GSwgaSvawZM5AzzL6, facebook.com/ukromaniagroup or email ukromaniagroup@gmail.com