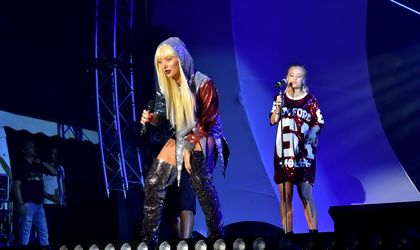 Last week, Romanian deputy prime minister Raluca Turcan announced that the Government is going to offer a EUR 100 million grant program dedicated to the cultural sectors, following a series of meetings with cultural representatives. The program is designed to help bookstores, publishing houses, festival and cultural event organizers. NGOs and companies are eligible.
The sums offered to each cultural business vary from EUR 4,000 microgrants and to up to EUR 800,000 per recipient (a limit set under the European Union's regulations) calculated based on the recipient's revenues in 2019.
"In order to benefit from this aid, all applying entities must register with the Cultural Sector Register, on the one hand, in order to know exactly the financial impact and, at the same time, as a condition for pre-registration to apply for these grants," explained Turcan.
Yet, Romanian musicians were left aside from this list, so an official letter signed by well known names of artists such as Delia, Antonia, Carla's Dreams, Connect-R, Florin Ristei, Horia Brenciu, Inna, Loredana, Paula Seling, Smiley, Ştefan Bănică, Vama and Voltaj, among 90 others, was sent to the Government. Negative reactions popped up immediately, mostly because all these artists are currently working on other projects, as TV anchors and commercial contracts. Everyone's argument is related to the entire band and stage productions, with sound engineers and light designers not mentioned as part of the new state aid cultural scheme.
Newly elected Mayor of Bucharest, Nicusor Dan, promised also to help out the Bucharest cultural scene, especially the independent cultural entities.
"Culture is not just a necessity and it is not just an indicator of a nation's civilization, culture is an engine of development, because if a person in this world wants to go on a city break in Belgrade or in Bucharest or in Budapest, he/she will look at what the cultural offer is. The cultural offer is part of the quality of life indicator, I return to the economic part: if a company wants to move to Bucharest or Belgrade or Budapest, it will look at the quality of education, will look at air pollution, will look at the cultural offer in that city and that is why culture, I repeat, is an engine of economic development. Bucharest has a great opportunity with the creative cultural area, because a creative cultural ecosystem has formed here over time, with a lot of achievements, especially in the independent area and that is why I welcome this help that comes from the Government for the entire cultural sector," Nicusor Dan said on the same  press conference with Deputy Prime Minister Raluca Turcan and Culture Minister Bogdan Gheorghiu, cited by Agerpres.
Over 300 independent artists wrote an open letter to the Mayor of Bucharest in late October to offer some solutions for the independent cultural scene: immediate financial help for artists and a scheme of funding cultural projects. The entire letter can be read in Romanian language here.
For 2019, Bucharest City Hall's budget was 10 percent only for cultural purpose, with an investment of RON 620 millions which were mostly shared within ArCub and Creart, the two cultural entities owned by the City Hall.