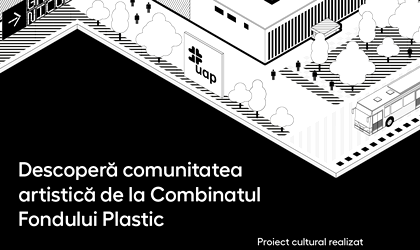 The Combinat (www.combinat.ro) microsite wants to contribute to the growing of the visibility and the audience of the Combinatul Fondului Plastic, through a series of editorial materials about its cultural entities, positioning it (29, Baiculesti) as one of Bucharest's and Romania's cultural destinations.
By Romanita Oprea
The project starts January 2021, by the online publishing of the CFP's digital map that will be constantly updated in order to include and present as many as possible of the active organizations inside the CFP, galleries (Nicodim Gallery, Sector 1 Gallery, UNA Gallery, S.E.N.A.T., Sandwich Gallery, Artsafe Gallery, UAP Gallery), exhibition spaces, cultural organizations, as well as workshops and important artists that create here.
The presentation of an organization that activates inside CFP through an online platform is adapted as form and content to the pandemic context, as well as to the habits of consuming cultural projects that we have been observing in the last 9 months.
This first stage of the cultural project is done with the support of the Ministry of Culture, with the occasion of the National Culture Day.
On a medium and long term, the platform ″Combinat″ proposes itself to offer Bucharest a cultural destination, reuniting the organizations, workshops and active artists that are present inside Combinatul Fondului Plastic, also from a communication point of view.
The platform is an initiative of The Institute Foundation and of the Creative Quarter Association, in partnership with Uniunea Artistilor Plastici din Romania.