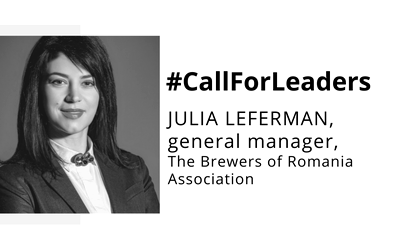 After running its course, the original Call for Leaders – 3Q was completed successfully, achieving its intended purpose of bringing a positive, insightful, or otherwise constructive view of the Romanian business scene in the context of the current crisis. Now, Business Review followed up with some of Romania's top professionals and entrepreneurs for #Call4Leaders part II – Back in Business, to see how they mapped out the long-awaited return to normality.
Current conversation:Julia Leferman, general manager The Brewers of Romania Association
How do you define the new normal that everyone should submit to?
We are optimist that we will adapt to the new reality. Until a vaccine becomes available we need to learn to live with this virus. We keep physical distances,  wear mask, follow the hygiene measures more strictly, gather only in smaller groups of people.
With the onset of the pandemic and people not going out to bars and restaurants, a new "normal" has emerged among beer consumers, with a 30% increase of the preferences for one use packaging, to the detriment of reusable glass. Another trend is the decrease of specialties category, which includes, amongst many others, dark, unpasteurized, light, ale, red (-32%), of non-alcoholic beer (-18%) and of beer mixes and flavored beers (-7%), also because of the lack of consumption occasions created by horeca locations.
In this new context, BREWERS OF ROMANIA launched #SOSHoreca initiative to support the hospitality sector, under #Reconnect umbrella. Reconnect with family and friends. Reconnect communities. Reconnect with our favorite bars and restaurants. Reconnect the value chain, from grain and hops to beer glass.
People are invited to once again go out and socialize, regain the confidence to consume responsible, with strict observance of social distance and hygiene rules.
Has this crisis altered your optimism or hopes for your business plans in this calendar year?
The beer industry was equally impacted by Covid-19 pandemic due to the general lockdown in the hospitality sector and cancelation of many national and international sport competitions (including Euro 2020 Football Championship), local and international concerts and festivals which have important contributions to the Romanian beer consumption. We also expect the constraints in tourism to have a negative impact on beer consumption this year.
Even if the brewing industry suffered a significant negative impact, local brewers continued to sustain their employees' jobs, without resorting to technical unemployment and paid taxes to the state regularly.
However, the closure of Horeca had a big impact on profitability. We remain one of the few countries in Europe with activity inside premises closed and this situation most probably will continue, due to the increased number of Covid illness cases.
That is why we consider that it is essential to implement the investment programs announced by the Government and the support strategies for the Horeca sector. Together with HORA Romania, the representative body of the Romanian hospitality industry, we asked Romanian authorities to facilitate the extension of terraces to public spaces, by decisions of local authorities, to allow the operation of temporary locations such as food trucks or mobile bars, to support the costs of physical distance securing measures inside locations and to offer direct financial support for Horeca outlets.
What's next for the industry you are currently representing?
On the long run, our efforts will focus on creating an efficient waste management system for beverage packaging, by implementing a functional Deposit Return System. For this, we have created an Alliance of Beverage Producers, including water and soft drinks producers, that is in a permanent dialogue with the Ministry of Environment, for the adoption of the necessary legislation and we also discuss with other interested third parties to jointly succeed in implementing such an ambitious project. The future is about recycling and reusing if we want to live on this planet in the years to come.
In the short run, untill the Covid crisis passes, the brewing industry will continue to be impacted. In March-May 2020, the local beer sector fell by more than 10 percent over the same period of the previous year. Depending on how long this pandemic will last and what the final impact will be on the hospitality sector, this trend may increase over the second half of the year.
Beer gets people together, to socialize, to have good time together, it is a beverage for socializing. So, as long as Horeca outlets do not function at full capacity, the sport events, concerts and personal events are limitted to small numbers of people, we will not be able to recover losses.