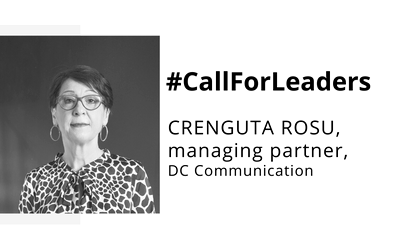 After running its course, the original Call for Leaders – 3Q was completed successfully, achieving its intended purpose of bringing a positive, insightful, or otherwise constructive view of the Romanian business scene in the context of the current crisis. Now, Business Review followed up with some of Romania's top professionals and entrepreneurs for #Call4Leaders part II – Back in Business, to see how they mapped out the long-awaited return to normality.
Current conversation: Crenguta Rosu, managing partner DC Communication
How do you define the new normal that everyone should submit to?
The "new normal" has appeared in public discourse repeatedly in the past decades, whenever there was a crisis. Each time, the term was not clearly defined but it seems that its role in each instance was to succinctly encapsulate that "something's got to change" and to be a buffer for uncertainties, decline and stress. In 2009, the "new normal" was used to define a largely unknown framework generated by various financial artifices and their possible effects on the economy. Looking back now, one can see the frequent comparisons with the "previous level of incomes/revenues/ activity etc. before the 2009 crisis", showing that the new normal was interpreted as a "reading error", a break from the previous status quo to which there was an aspiration to return. Evolution tracking is normal, no doubt about that: it is the measure of achievements, the distance from point A to point B which the companies have covered in their post-crisis recovery.
Will it be different this time? The current "new normal" seems to be like a ball of yarn of even bigger uncertainties than before and it seems to be operating in a more tense context. 
Wider impact on economies: Very abrupt decline in activity in more than 2-3 economic branches at a time, describing a domino effect with even more pieces and with a relatively more rapid fall and connections than before. Such a brutal contraction of almost all activities over such a short span of time is unprecedented. Job losses and business closures in many fields, some still under relative lockdown. Analysts share divided views over a breadth of issues: if there is a V or a W recovery shape, if the recovery year will be Q1 2021 or 2023, if the huge unemployment rates currently on record will ever readjust. 
Critical mass/point in adoption of new technologies: More companies are ready to adopt digitalization to protect their teams and clients, an accelerated trend for those already pursuing such alternatives and a wake-up call for those lagging behind in the process. This is a moment in which efficiency based on new available technologies is taking over more and more segments: automatization, digitalization, robots in industrial manufacturing of all sorts, in offices, in data collection and interpretation, 3D printing (from car parts to dental work), mobile banks, fintech companies, and many other applications more and more adopted and made available. 
The level of discontent at the general sociopolitical level regarding the economy: this factor seems to have reached a new peak as well. In increasingly more countries, strong movements have arisen, protesting governments, questioning their policies, and sometimes even the bases of their economic systems. There is intense polarization on almost all major themes and a radicalization of extremes. Meanwhile, all these governments – competent or not – are dealing with the immense pressure of the pandemic in terms of healthcare, economics, and beyond
Above all, a severely life-threatening situation: This time, the global crisis we are dealing with has possible immediate effects on human health and lives, thus increasing the stakes of defining a new, functional operative framework. The high uncertainties regarding whether there is a way to protect and prevent (further) loss of lives run rampant. Healthcare systems all over the world are under pressure – too little resources, too little space compared to the high rates of infection, too short of a time for researching what the virus really is and does.
Various analysts – some of the World Economic Forums thinkers, for example – support the idea that all the above are the expression of a revolution, comparable in size to that of the 19th-century Industrial Revolution. Driven by digitalization, the aforementioned issues and processes will likely to affect the way we work, live, our jobs, skills, business models, and leisure time. In the context of the pandemic, these processes are being accelerated. Maybe this massive rate of change is what is different in the current crisis.
I do not know if there already is some well-defined "a new normal" or, if not, how it will be defined. There is a lot of not-really-normal in what we see around us today and the environment is changing as we move forward.
After reading the variegated opinions of policy makers, macroeconomists, analysts, futurologists, think tanks, and studies of all kinds, I do not feel like I have a clearer grasp on what is going on a large scale or like I am somehow "in the know" – indeed, it is more and more clear that none of us are. What seems to be a reasonable short-term conclusion is that for some time we will have to learn how to live under the constant risk of potential exposure to a life-threatening illness – a life-sized roulette, if you will. Analyzing the above 4 pillars – economy, technology, society, life – health measures will likely have to prevail as priorities for a while. They will also probably need to be supported by balanced policies and actions on all the other fronts in concert, so that the tensions within the society will be kept under some control. In other words, economy, technology, and society should be subsumed to the life-and-health concerns which dominate public discourse during this crisis.
Has this crisis altered your optimism or hopes for your business plans in this calendar year?
To some extent, of course – this time has asked all of us to redefine our expectations for the future in some way. In my case, I have tried to not alter my horizons under pessimistic auspices: I try to think through all that is going on, but I anchor my optimism and hopes only on those things which are directly under my control. Letting oneself fall prey to worries about variables that nobody can currently predict is a damaging prospect. Although we try to understand the overall consequences of what we are all living through these days, we decided to worry only about the things that we can influence. We focus on what we can do in this complex environment: we continue to generate projects which will support our clients in communicating their plans to their teams and partners; we propose new projects that support community development and use communication to achieve transformation and evolution for companies, institutions, and communities. We are building new ideas on the basis of previous experiences in sustainable development and education. We are also actively focusing on developing and deepening in our specializations, keeping up to speed on the rapid developments of our world, brushing up and updating our team skills. However, we do also see the bane of over-prudence and of a slower decision-making process – as with most others these days, this has unavoidably affected our plans and development, regardless of how reasonable we try to keep ourselves. We took some hits in terms of volumes of work and we have to make sure we have the means to keep the team fully functional and to generate projects towards ensuring the desired developments.
What's next for the industry you are currently representing?
As with everything else, I can only guess. Due to the fact that transformations are thought out on a large scale, we can reasonably expect to see an increase in strategic communication projects on the corporate communication side. In theory, in order to ensure the continuity of operations and the involvement in new work formats, companies will need to intensify communication with their own teams, partners, and clients in order to support their desired changes and to favor the selection of their products and services. In practice, we saw in previous crises that this is a valid model, embraced by a significant segment of the market; companies with an especially strong drive, clear vision, and firm leadership opt for this model. In these times, it is also the case that new "star-companies" also emerge as a consequence of inspired choices in the context defined by the crisis, all of which is commonly driven by continuous and focused communication. 
It may also be a safe assumption that we will see more fluency in the usage of digital channels and content creation for both internal, and external communication. It is also reasonable to expect the development of owned communication tools. These may ensure increased control over messages and resources. We will probably see a period of functional communication until the companies will re-settle their plans for 2020 and first half of 2021. This may also increase the focus on "must-haves" – securing a constant and relevant information flow to teams, partners, and clients – rather than on development, growth, or merely nice-to-have projects. Quick wins will also be desired in the attempt to (re)cover the different pace of communication during the pandemic. As you can see, all these are a mix of good news and less good news; it will not be easy and, for many actors, it will be a struggle to ensure developments and investments and to readjust while working with even more limited/uncertain resources.