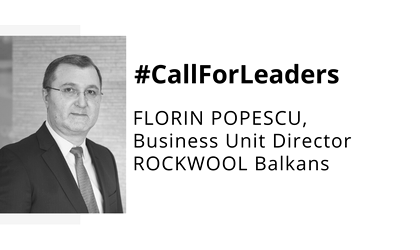 Call for Leaders – 3Q is a new category where Business Review features our 3 questions with some of Romania's top business professionals, bringing a positive, insightful, or otherwise constructive view of their markets in the context of the current crisis.
Current conversation: Florin Popescu, Business Unit Director, ROCKWOOL Balkans
What are the measures you took for your business during this period?
 The most important measures we took were related to the health and safety of our employees and our customers, as well as being responsible towards the society. We are enforcing extraordinary practices to increase the level of hygiene, cleaning and social distancing in our factory in Prahova county. Additionally, we asked all the colleagues who have office tasks at the factory and the Bucharest office to work from home when possible. The ROCKWOOL Group was well prepared for this, with enough mobile working posts, online platforms to discuss and share information and security measures to be able to switch to remote work for a large part of the employees.
This has allowed us to continue our factory operations and we continue to deliver stone wool Made in Romania to our clients. We still have demand for our products and we do our best to meet that demand. Our resilient business model and the crisis management team that is coordinating our response give me confidence that we will weather this storm.
What's your advice for business leaders regarding this crisis?
 Safety of the people comes first. You can rebuild your businesses but people are more vulnerable.
What's the most positive business news you've read today and want to share?
 The most positive thing in this period is the capacity of many companies to adapt fast to the new situation and continue to work while also acting responsibly.