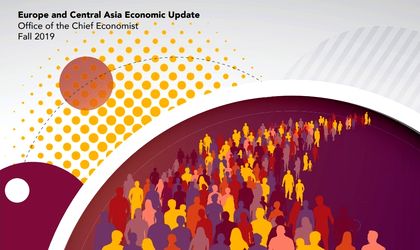 The World Bank has revised up to 4.2 percent its estimation regarding the Romanian economy's advance in 2019, with an increase of 0.6 percent compared to the bank's June 2019 forecast. The international financial institution expects Romania to report a 3.6 percent GDP growth for 2020 and 3.2 percent for 2021, increasing by 0.3 and 0.1 percentage points respectively compared to the previous forecasts.
According to World Bank estimates, Romania's deficit is expected to remain at 3 percent of GDP this year, and will deepen to 3.6 percent in 2020 and then to 3.5 percent of GDP in 2021. The current account deficit will reach 5.2 percent of GDP in 2019, 5.4 percent in 2020 and 5.6 percent in 2021.
The inflation rate is projected to reach 4.1 percent this year and fall to 3.6 percent and 3.1 percent in 2020 and 2021. Debt is expected to rise to 38.5 percent of GDP in 2019, at 39.1 percent of GDP in 2020 and 39.5 percent of GDP in 2021.
"Romania's economic growth is expected to moderate in the medium term, in line with the long-term potential, because the available fiscal space is shrinking and the labor market increasingly tightens. This tightening is likely to be most pronounced for tertiary-educated workers, whose employment rates at 89.2 percent in Q1 2019 were twice those of workers with less than lower-secondary education. This is likely to put pressure on wage growth and to feed into rising inequality,"  the World Bank warns in its report.
The financial institution also notes, "it is unlikely that the government will be able to firmly control the imbalances, following the fiscal measures promoted in recent years, coupled with political uncertainties".
In the medium term, says the World Bank, "the government will have difficulty maintaining the budget deficit below 3 percent of GDP. The newly promoted pension law and planned wage increases in the public sector will put endemic pressure on the consolidated budget deficit and reduce the available fiscal space. The two measures will add about 0.8 percent of GDP to public spending in 2019 and 1.7 percent of GDP in 2020. The deepening fiscal deficit will increase public debt to 39.5 percent of GDP by the end of 2021, from 36.6 percent in 2018".
The uncertainties of the fiscal policy, coupled with the tightening of the labor market – amplified by emigration – could generate significant internal adverse effects on growth and investments.
The institution recommends renewed efforts to improve labor market participation and measures to reduce high unemployment among young and low-skilled people, which will help alleviate supply constraints and improve growth sustainability.
"In the medium term, the focus of fiscal policy should be rebalanced, from increasing consumption to mobilizing investments, especially from European funds, to support sustainable convergence to the EU and social inclusion. Reforms in public administration and state-owned companies, enhancing the predictability of regulations, as well as appropriate policies for addressing social and spatial disparities should be on the government's priority agenda," the World Bank finds.
Slow growth across Europe and Central Asia
Economic growth across Europe and Central Asia is slowing, with regional growth estimated at 1.8 percent for 2019, according to the latest World Bank Economic Update for Europe and Central Asia (ECA). This estimate, the lowest in four years, reflects slowing growth in both the Russian Federation and Turkey, the region's two largest economies. The report also notes robust growth in other parts of the region, including countries in Central Europe, Central Asia and the South Caucasus.
Slower growth in the region parallels a global downward trend and underlines the need to boost productivity growth and increase investment – which has been declining over the past decade. In ECA, worsening demographic trends – including the shrinking size of the working-age population – add to these challenges. The report looks at migration trends and offers insights for both destination countries and countries of origin.
"Migration can contribute to prosperity in the region," says Asli Demirguc-Kunt, World Bank Chief Economist for the Europe and Central Asia region. "Migrants disproportionately tend to be of working age and can therefore ease demographic pressures by increasing the size of the labor force, raising productivity, and boosting growth."
The share of immigrants in Europe has rapidly increased over the last four decades, with one out of every three immigrants around the world now going to Europe. Intra-regional migration is also high in Europe and Central Asia, with 80 percent of emigrants choosing to move to other countries in the region. Opposition to migration is often strong, however, because the benefits tend to be longer-term while the costs – including displacement and unemployment – are immediate and concentrated among certain groups.
Policymakers need to assist these groups by designing programs to retrain them and adjusting education systems for young people, so that they are not competing with lower-skilled immigrants. Components of such efforts could include transitory welfare benefits and unemployment insurance payments, according to the report.
Migration also raises concerns of 'brain drain' of skilled-labor from countries of origin, as people with more education tend to emigrate more often around the region. Statistics show that 55 percent of people with higher education from Bosnia and Herzegovina live abroad, and this figure is over 40 percent of the educated populations of Armenians and Latvians, and close to 40 percent for Albania, Moldova, North Macedonia, the Kyrgyz Republic, Kazakhstan, Romania, and Tajikistan. Such persistent patterns are often a symptom rather than the cause of the underlying problem.
Improving governance and strengthening institutions in origin countries are long-term policies that can address the root causes of persistent emigration. Policies aimed at retaining skilled labor include promoting the private sector and boosting job creation, investing in higher education, and increasing opportunities for women in the economy. Greater connectivity is also an important aspect of increasing engagement with the diaspora, as emigrants who stay connected are more likely to invest and return. The report shows that increasing incentives for remaining in a country of origin is more likely to deter outward migration than pursuing policies that restrict benefits abroad.