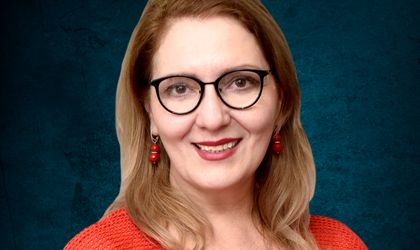 What will make the difference this year? What are the trends that will transform the economic landscape? How should we act to achieve sustainable results and maintain business resilience? These are the questions that the executives I talked to during this period are asking themselves. An analysis by Valoria reveals the main trends for 2021. 
Beyond the plans and scenarios prepared by managers, the essential elements for success this year are also given by the ability to observe new trends and agility in adapting to them. To support this process we have put together the recommendations of the specialists from the Valoria team that you find in this article as answers to these two essential questions:
What was the most important transformation brought by 2020 (in your field of expertise)?
Marketing and Sales -> Elena Badea, Managing Director: In 2020 many companies needed to move part or all of the sales process online. Where it began, this transformation has borne fruit. Where resistance to change kept things on them, the process was difficult and painful. However, this trend has brought many companies a new sales channel that will remain relevant from now on. The integration between marketing and sales is facilitated by technology, and this is an irreversible process. On the other hand, in 2020, managers saw for the first-time what value a strong, well-built business brand brings. Consumers stayed with the gangs who always communicated their values ​​with empathy, transparently, and authentically and who systematically delivered their value promise beyond expectations.
Team Management -> George Agafiței, Trainer & Coach: The teams had new types of interactions in the online environment in 2020. The challenge for managers was to maintain the level of motivation and involvement of people in the conditions of isolation and remote work. The most powerful tool used, team coaching, has quickly adapted as a way of interaction: from predominantly face-to-face, to exclusively online. Managers who turned to an external coach for team coaching sessions benefited from results in terms of good morale, constructive orientation towards action, and adaptability. At the same time, the contents, especially in the individual sessions, were related to the adaptation to the new challenges, with a focus on the clarity of the message.
Process Improvement -> Constantin Măgdălina, Trends, and Emerging Technologies Expert: Simple and gradually implemented improvements, although still necessary, are no longer enough. Due to the evolution of analytical methods, such as customer experience management, techniques such as consumer experience mapping, and a lot of new digital technologies, such as process mining and robotic process automation (RPA), the field of process improvement has changed. Most companies adjusted their ad-hoc processes or under the pressure of major inefficiencies. Now the process was necessary to ensure the efficiency of the results, agility, and sustainability.
Self-Leadership -> Teodora Pohoață. Master NLP & Coach: Excluding the major health challenge facing the world, 2020 has been a year of progress in many areas. Mankind has mobilized in many ways and has advanced in the process of digitization, but also in less quantifiable processes at the rational level, but which have the greatest emotional impact: for many of us the year 2020 has made us more empathetic. and more supportive. All this has been translated into coaching, the predilection for returning to essential values being only one of the trends. Others, equally present and important, were: self-knowledge, the desire to act to become better and better people, to maximize the potential and inner resources, etc.
What are your forecasts for 2021? What is important for managers to know?
Marketing and Sales -> Elena Badea, Managing Director: In 2021 the most important trend is the integration between marketing and sales or business development. The benefits of this process are multiple: lead generation, efficient budget management, data analysis, customization, etc. My recommendation is that the marketing strategy for this year should consider this trend and interconnect as effectively as possible the marketing initiatives with the lead generation and sales part in a sustained process of technology. Most entrepreneurial companies have sales processes suitable especially for the offline environment and do very little marketing. This approach will massively tax the results obtained in 2021 and needs to be changed as omnichannel buying behaviors in B2B begin to gradually translate into B2B as well.
Team Management -> George Agafiței, Trainer & Coach: In 2021 the importance of team coaching will return. People need to "feel" belonging, and simply attending work meetings is not enough. Also, managers need to increase their commitment and know that they can rely on the people on the team. In some situations, there is a kind of tension between colleagues, which if not addressed – and the best approach seems to be team coaching – risks being "put under the rug" or be approached with exhortations such as "stop you're still doing this … ". Some managers can handle themselves, but more and more people ask for the help of a coach for facilitation skills and a neutral position concerning team members. I think that working remotely has brought some advantages that managers and team people do not want to lose, as I believe that working in offices will not be completely abandoned – not as before, but in formula 3-2- 2 or similar. In any case, "working together", "collaborating" acquire new values that performing teams want and can build new behaviors.
Process Improvement -> Constantin Măgdălina, Trends, and Emerging Technologies Expert: For the continuous improvement of companies, the technology will be adopted on a wider scale. Leaders recognize that anything that eliminates friction to improve performance is of great value. The behavior of leaders has a direct impact on the achievement of strategic objectives and operational excellence. It will change from encouraging and supporting the idea of continuous improvement to proactively engaging in connecting improvement work to the organization's strategic goals, by investing in technology, by continuously communicating the value of improvement, as well as the recognition for employee contributions, and by dedicating resources for continuous training of the team members.
Self-Leadership -> Teodora Pohoață. Master NLP & Coach: Even if in 2020 we have taken great steps to guide our lives in the right order "TO BE-TO-HAVE", it is important that this process continues in 2021 and the coming years. Only in this way will the new model be fully mastered on a mental level, but especially on an emotional level. And because (much) too many years I lived especially according to the reverse rule, TO HAVE-TO-DO-TO-BE, it could be that the new process is one of long-term resettlement. But coaching can make a major contribution to significantly shortening this period, helping people interested in an accelerated pace of transformation to discover their own best solutions to become their best versions as soon as possible.