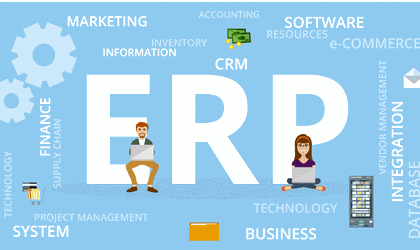 Are you having trouble running your business? Are you wondering whether to invest in an ERP system to support your business? Of course, any investment takes time to weigh the advantages and disadvantages. However, you have to look at the bright side to evaluate whether it is worth implementing or not. This article will give you some information about ERP, including what ERP is and how retail businesses benefit from ERP systems.
What is ERP?
ERP stands for enterprise resource planning. It is a program or system that combines all important corporate operations into a single system, including accounting, human resources, inventory management, and purchasing. By allowing businesses to plan, budget, forecast, and accurately report on their financial health and procedures, an enterprise resource planning system can help them enhance their performance and project management. ERP systems have been widely adopted for a long time, demonstrating how important they are to a successful business.
There are many outstanding ERP software in the market recently, divided into 2 types: on-premise and cloud ERP. Cloud ERP seems to be more popular because of its better integration features. Businesses normally have to apply much different software and systems to run efficiently. A good ERP system should be able to integrate with other software. On the other hand, some vendors offer an all-in-one business solution that combines POS, ERP, and other functions into a single piece of software. For instance, Magestore, Quickbooks, Netsuite, and so on. You might want to consider using this software to establish a new business.
How retail businesses benefit from ERP system
Despite its high costs and complex implementing procedures, ERP systems are still widely chosen by businesses to manage their operations since the benefits outweigh the disadvantages. There are so many advantages that an ERP system can bring to businesses. We can show the top 5 outstanding benefits as following:
Cost-saving
ERP solutions provide a central source of reliable information in real-time which can reduce paperwork, optimize everyday routines and remove repeated tasks. It also considerably accelerates corporate activities involving a variety of information requests and approvals, such as logistics, stock and supply management, and so on. Therefore, using ERP helps businesses reduce both operational and administrative costs. According to sellecthub.com, applying an ERP system can help businesses reduce operational costs by 23% and overall administration costs by 22%. Besides, the ERP system also helps businesses manage inventory more efficiently, reducing manual workers and inventory carrying costs.
Improving reporting and planning
When you implement an ERP suite across departments, you have a single, unified reporting system for all of your processes. An ERP system can easily provide meaningful reports and analytics at any time since it has a single source of truth. Without the bother of many spreadsheets and emails, this software allows you to examine and compare functionality across departments. Therefore, you can get an overall picture of the business, and making an effective plan for the future becomes much easier.
Customer Service
The optimization of customer relationship management is another practical feature of ERP software. A centralized data storage system gathers all required information on sales and clients, making it easier for sales managers and customer service representatives to engage with customers and reduce the time it takes to respond to their requests. ERP also helps business owners have better access to customer information and purchasing history. You can increase customer loyalty basing on that information. In addition, better order and inventory management lead to on-time delivery and order accuracy which also maximize customer purchasing experiences.
Increasing Efficiency
Using ERP can help businesses increase efficiency in operation. Repetitive processes will be essentially eliminated using ERP software. It considerably reduces the amount of data that must be manually entered. In addition, your business processes will be streamlined with the help of an ERP system. It facilitates data collecting, making it more efficient and straightforward. This is true regardless of the industry in which your company operates.
Improving productivity
Productivity is very important to a business. It can help them stay competitive in the market or be dragged behind. ERP can help you improve working productivity. It helps reduce the amount of time it takes to complete tasks and projects since it will automate repeated processes. With this automation, employees can finish the task quickly and move to other duties and activities. Besides, with a streamlined process, there are no repeated tasks and checking times, productivity is still ensured without minimum costs on manual workers.
Conclusion
In short, ERP systems provide enormous value to businesses. It may have certain pricing restrictions and a difficult installation, but the benefits it can provide are well worth the investment. If you operate a business, you should think about all of these things and figure out the best strategies and ERP software to make your company stand out in the market.